Why Take Lessons with LAAPA?
Choose Your Lesson Experience - Attend In-Person or Online
Whether you choose to take lessons online or on campus, we offer the largest comprehensive curriculum in the area. Choose from Piano, Voice, Singing, Guitar, Violin, Viola, Cello, Drum, Bass, Banjo, Mandolin, Ukulele, Trumpet, Trombone, Flute, Clarinet, Saxophone, Composition, Music Theory, Preschool Music, Choir, Rock Band Classes, Jazz Band Classes & Dance Classes in Ballet, Tap, Hip Hop, Musical Theater, Tumbling, Contemporary/Modern and more!

Our summer camps are an excellent way for students (ages 5-16) to explore their talents and interests! With over 30 music and dance programs and instruments to choose from, students are guaranteed a fun and memorable experience!
The most diverse & inspiring music & dance instructors in New Orleans

There are many musicians and dance artists in our area who have extraordinary degrees and performance credentials who also teach students on the side when they are not busy performing. There is no doubt that they have much to offer students, however these are not the teachers we seek out at LAAPA.
Teaching, like performing, is an art and takes hours of training, refinement, and practice to perfect. A master instructor is able to effectively communicate with students of all levels, ages, and backgrounds. They understand and are able to present concepts in a variety of ways based on their observation of how each student processes the information. All of this is accomplished with patience, encouragement, and a smile.
These are the teachers you will find here at LAAPA who come to us with only the highest recommendations from their own teachers and students. Our faculty members enjoy teaching students at all levels from beginning through advanced. Our faculty realize that not every student is interested in the same style of music or dance.
We teach the songs, styles, and steps students are interested in learning! From classical, to rock/pop, jazz, blues, hip-hop, funk, christian, and more. Our teachers are dedicated to learning about your personal goals and helping you to achieve them in a manner that is FUN and ENJOYABLE!
Large selection of scheduling available - 6 days a week

• 9:00 am - 9:00 pm Monday-Thursday
• 9:00 am - 7:00 pm Friday
• 9:00 am - 3:00 pm on Saturday
No Long Term Contracts or Commitments
LAAPA does not require semester or annual contract minimums for lessons. Newly enrolled students initially commit for just three months and continue on a month to month basis thereafter. Why do we require an initial three month commitment? In our 40+ years of experience, this has proven to be the ideal minimum amount of time for students to discover their new program successfully. Determining your future success and aptitude for dance and music after having only a couple of lessons is not practical or fair to yourself!
Learning just about anything that is new requires patience and a lot of trial and error to fully gauge capacity. What happens if during that initial period you decide you want to change over to a different instrument? No problem! What if you decide your instructor isn't the best fit for your learning style? We have around 60 others to choose from! Ultimately, we are all committed your success, and you have everything to gain and nothing to lose.
Student Success Stories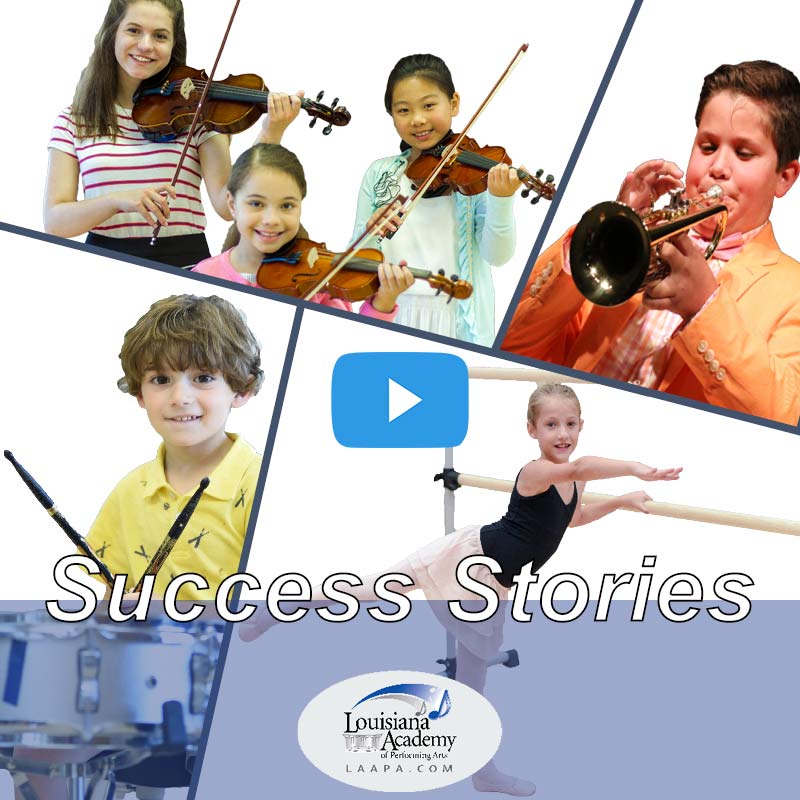 My daughter has been taking piano lessons with Mr Daniel for almost 2 years. She was young when she started (had just turned 5) and he was very patient with her as she learned proper hand placement and the basics. He's done a wonderful job of both allowing her personality and creativity "to be" and at the same time teaching her the fundamentals of piano. It's been a joy to watch her develop over time and most importantly, to witness her love for piano. Whenever I check in with her about the activities she's doing, piano (and with Mr Daniel) is the one thing she always insists we keep. He has been wonderful for us.
Erin K. ~ New Orleans, LA
parent
As a non traditional student, I must give props! I just had the most refreshing and informative drum lesson of my life! Let me start off by saying that I am waaaayyyy old to be a beginner/early intermediate drummer... 40 is old for beginners... And I have gotten alot of flack and snickers for starting this journey at 39... But not from these folks. I have found my tribe! Everyone here, from the receptionists to my instructor, have been nothing but encouraging and patient!
Allison H. ~ Metairie, LA
adult student
Everything about this place is great. As soon as you walk in you are greeted by a super friendly person at the front desk. Then Megan, the dance teacher, is so great with the kids. My daughter Abbey is sort of shy and Megan does a great job of interacting with each and every student and making them all feel comfortable. I highly recommend this school.
Paul C. ~ Mandeville, LA
parent
My instructor, John, is so patient and supportive. I can't say enough about what an absolute pleasure it is to have him as my violin instructor and what a great institution LAAPA is. Absolutely everyone I have encountered there has gone out of their way to make me feel welcome and supported. Thank you for a great experience!
Darlene F. ~ Slidell, LA
student
For a Christmas Present I decided to enroll my Granddaughter for a music class but she was only 2 at the time LAAPA's staff recommended a small group in a toddler music class. Well it turned out to be so much fun that we are still there. My Granddaughter has moved up two levels of music class since then and is now taking private piano lessons with Dr. Vera. We absolutely love her. It has been even more of a wonderful experience then I thought. My whole family is so impressed with my Granddaughter's accomplishments. I highly recommend LAAPA and any of their locations. High 5 for this Music Academy!
Tina C. ~ Covington, LA
grandparent
I am so happy we found LAAPA. My son started sax with Dr. Mark, and he is one talented teacher and musician. My son is playing songs with heart and soul. My daughter is now a guitar player! She is only eight and Mr. Chris is so patient and kind and an incredible musician. My kids look forward to jamming on Monday nights with their teachers. Best music school in the area.
Erica S. ~ Mandeville, LA
parent
We are so happy here! This is the one class our 6 year old is always excited to attend — whether she's doing voice or piano. She always has fun and has progressed so much. The atmosphere is professional but still warm and friendly. We recommend LAAPA to everyone.
Melanie B. ~ Harahan, LA
parent
We love this school! My 6 year old son attended their camp this summer and had an amazing time. He had the opportunity to play all sorts of instruments, dance, act & learn about music theory too. The recitals at the end of each week are so amazing - you can't help tearing up with pride. We decided to sign up for piano class this fall & he absolutely loves Wednesdays with Ms. Hannah. She is so sweet and patient and he has learned so much from her already. My son is autistic and every single person we have encountered at the River Ridge School of Music & Dance has treated him with kindness and enthusiasm. I feel like we have found such a special place to nourish his artistic talents. Now the only question is - what class should sign up for next!
Katy G. ~ Metairie, LA
parent
My son is taking drum lesson with Bradley and he is spectacular. He will try every avenue to make him understand how to play a certain beat if he is having trouble. He is patient, upbeat and a positive person. I will always recommended him to anyone who needs lessons.
Tanya C. ~ Kenner, LA
parent
Reagan really enjoys his guitar lesson with Mr. Bill that he can't wait for Monday to arrive. He says Mr. Bill makes learning fun and he doesn't feel pressured or bad of he can't get the song right away. Mr. Bill is always calm and positive and interested in what Reagan wants to learn.
Pat D. ~ Metairie, LA
parent