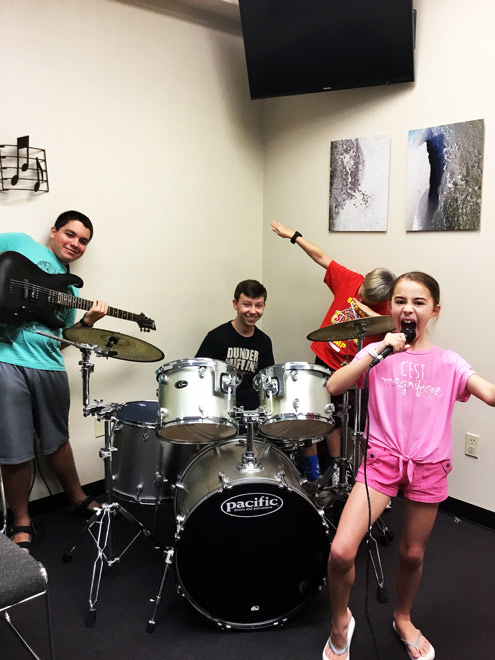 About our Curriculum...
Our curriculum at the Covington School of Music goes beyond weekly lessons that are offered by most teachers and schools. Of course our faculty offer private lessons from 30 minutes weekly to 60 minutes weekly based on the age and interest/skill level of the student. Students are encouraged to bring in examples of the what they'd like to work on! Each week your instructor will create detailed lesson plans for both short term and long term musical goals.

Our students additionally receive access to our complimentary weekly music theory/composition classes, Mandeville recording studio (1 hour free per student annually), complimentary master classes and makeup workshops, annual music honors festival (LAAPAFEST), multiple ensembles to join, and more! Students are certainly welcome to only attend their weekly private lessons; however, these additional academy benefits will be here when you're ready!

Available programs include piano lessons, guitar lessons, voice lessons, singing lessons, vocal coaching, violin lessons, bass lessons, trumpet lessons, flute lessons, saxophone lessons, drum lessons, jazz studies, jazz band, choir, toddler music classes, viola lessons, cello lessons, composition lessons, theory classes, and ear-training classes.

Stop travelling across the lake or all over the Northshore for your music lessons. We have the widest variety of programs to choose from with some of the most talented and personable music teachers in the state of Louisiana!

Too busy to come to your lessons in person? Many of our students enjoy the convenience of taking their lessons virtually from the comfort of their home each week! At LAAPA, we've been holding online lessons since 2012 and currently use the Zoom platform. Students may connect from any device with a high speed internet connection. Finally, some of our students enjoy our flexible/hybrid learning approach where they choose to attend in person some weeks and online other weeks.