Music School in River Ridge for kids, teens, & adults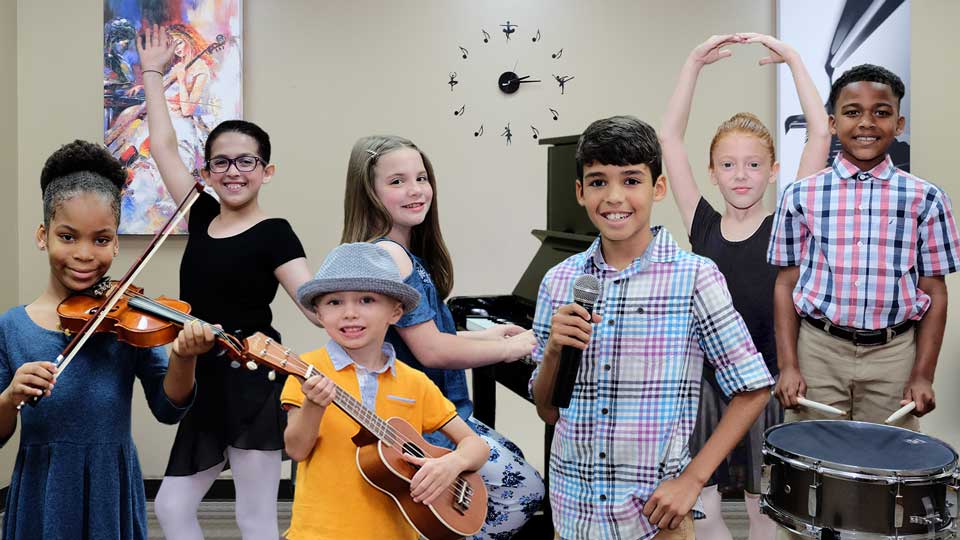 As a local leader in music education for the past 40 years, the River Ridge School of Music & Dance works with over 500 students each week providing instruction in music, dance, and performing arts for kids, teens, and adults.
Is someone in your family getting their songs stuck in your head from singing them so much around the house? Perhaps they are banging around on the family piano or kitchen pots and pans? Did they make their own guitar out of a shoe box and some rubber bands? These are all excellent signs of an interest and ability in learning to play music!
We teach a variety of students at our school from brand new beginners playing their very first notes all the way up to professionals who are preparing for an upcoming audition or recording session. Our university trained faculty make learning to play or sing fun and ensure that each lesson places you on a path to achieve your musical goals.
If you took lessons as a child, chances are that you had very few choices when it came to styles of music. Perhaps you took lessons with the neighborhood piano teacher and were only allowed to work on classical music? Our teachers love and perform all styles of music! We want our students to be able to play the music they love, so we work to ensure that the technical parts of each lesson coincide with their goals and musical interests.
Speaking of variety, our school teaches students of all ages and lessons for adults are quite popular at our academy. You may not see as many photos of adults here on our website because they are usually a bit shy, but rest assured that they feel right at home and they enjoy the same opportunities and benefits that our entire student body does.
Our music teachers are available Monday-Saturday for lessons at a variety of times. During the week we typically begin lessons in the early afternoon and our final lesson usually begins at 8:30, however morning lessons are available on Saturdays and by request during the week as well.
Online Music Lessons Available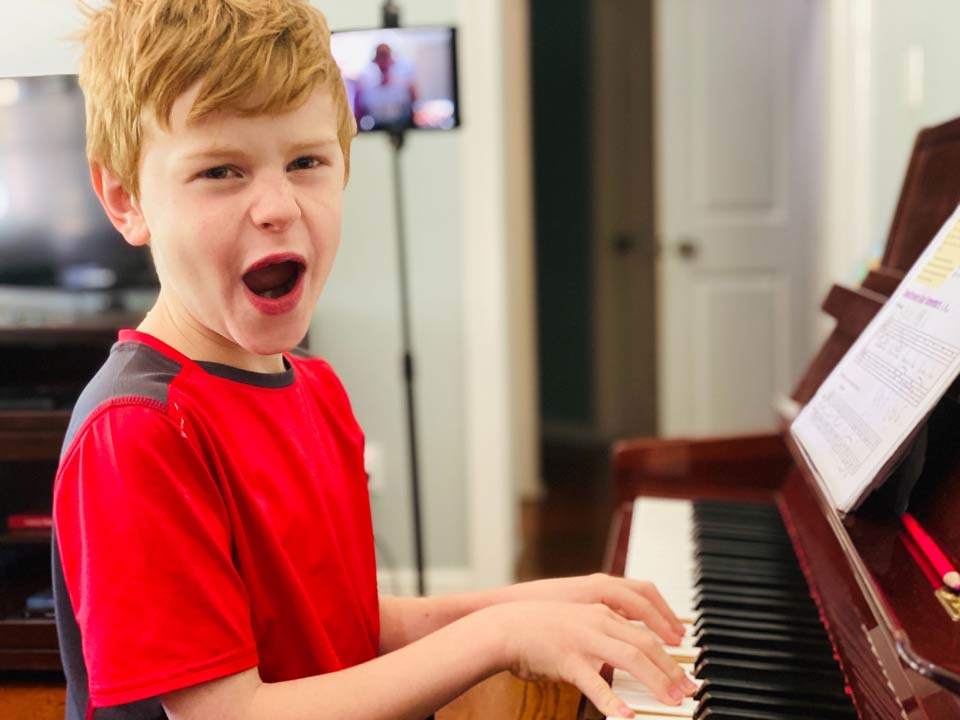 In 2012, LAAPA began offering online lessons to students from around the world! They were first instituted as a way to enable students to continue their progress over the summer while travelling. In today's busy world, we understand that everyone is travelling constantly from one activity to the next and many times may prefer to learn from home with a LIVE online teacher! Online lessons are available in all of our programs, and students may additionally attend in person whenever convenient.
Learn More About Online Music Lessons
What Sets Our
Music School Apart?
While there are now many music schools in the River Ridge, Harahan, Jefferson, and Greater New Orleans area, the River Ridge School of Music & Dance is the city's largest and most established with over 40 years in the area. We don't think we're the best because we're the biggest, rather we think we're the biggest BECAUSE we're the best! We are the only performing arts school in River Ridge to offer the most complete variety of music classes - see our program highlights and a complete listing below!
At the River Ridge School of Music & Dance, we believe in a comprehensive learning experience for our students which goes beyond a weekly private lesson. Certainly these extra benefits are not required for those students only interested in the weekly lessons, but the majority of them are complimentary and they may be of interest as students grow in their love for music!
Our students receive access to our complimentary weekly music theory/composition classes, recording studio (1 hour free per student annually), unlimited complimentary master classes and makeup workshops, annual music honors festival (LAAPAFEST), access to multiple ensembles, and more!
As we continually upgrade our facility each year, technology is also quite prevelent throughout our school. With iPads in each studio, our faculty are able to create digital lesson plans for their students with interactive video tutorials, audio and PDF files. Our in studio technology also allows our faculty to teach students remotely online LIVE via video conference. Many students have taken advantage of this option either on occasion due to last minute schedule changes or permanently to avoid the commute!
Music Lessons in River Ridge for all ages
Music is a language like no other. It communicates emotion and feeling wherever words may fail. Our patient and fun university trained music instructors have a true passion for education. Whatever your stylistic interests or background may be, they are ready to help you develop a lifetime love of music and the performing arts. You can check out some of our many other blogs here!
Watch a Music Lesson below with Academy Director, Ryan Cullen and Mrs. Katarina, piano/voice instructor, as they discuss the Ups and Downs of you or your child's first year in Music Lessons (compliments of our Lagniappe Lesson Series).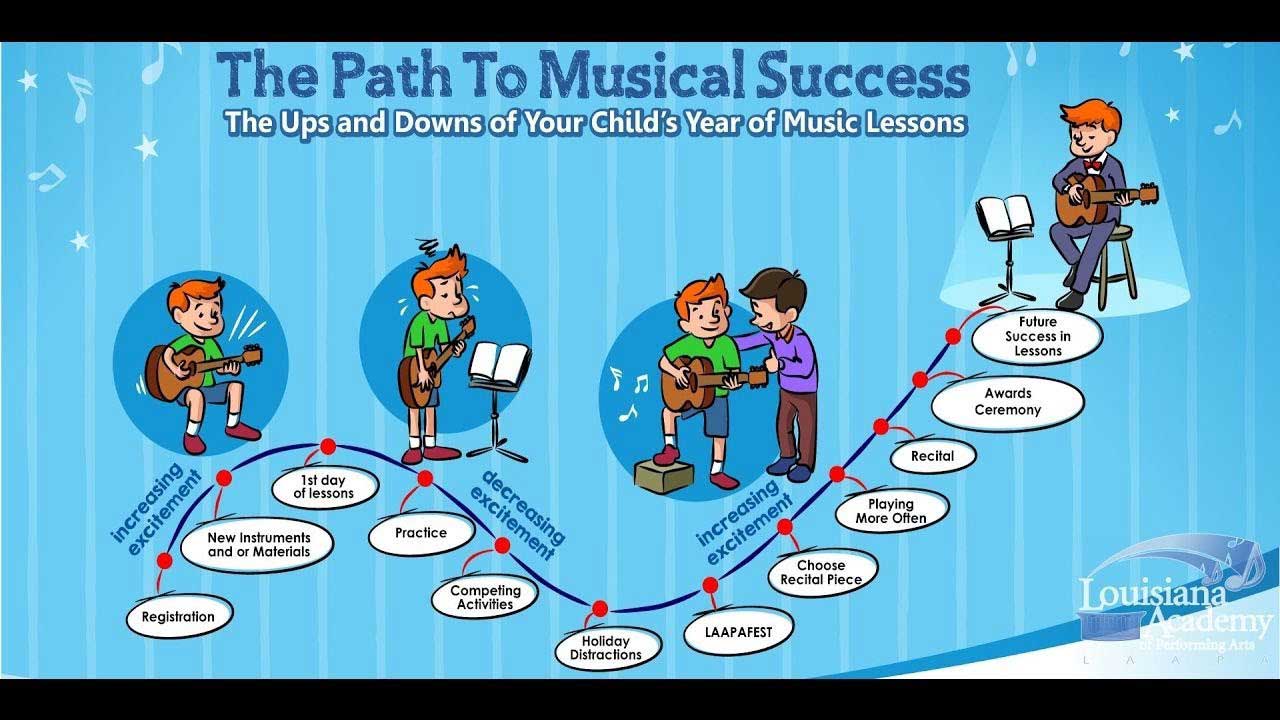 LAAPA Academy Director, Ryan Cullen, interviews Mrs. Katarina - piano/voice faculty at the River Ridge School of Music and Dance regarding her experience with helping piano and voice students to maximize their productivity during practice sessions. Parents and students who are brand new beginners to music lessons will especially appreciate tips on setting expectations, how much to practice, how interest levels may fluctuate, building motivation, and creating fun exercises during your home practice sessions.
Learn More About Music Lessons
Piano Lessons in River Ridge for children and adults
The most common first instrument that children may come across is the piano. Keyboards and even acoustic pianos have become more affordable than ever, and they are an excellent way for families to experience the joy of music in their home. As our school was founded first and foremost with piano lessons in mind, we have a vast knowledge of piano methods - what works and what doesn't work at various ages. Two of our piano instructors have actually written their own method entitled, "LAAPA Piano Prodigy" which we have published through our LAAPA Press. The inaugural, primer edition was written specifically with the young beginner in mind and features fun graphics, games, and inspiring melodies. You can learn more and browse the book at our Front Desk.
Watch a Piano Lesson below on "Understanding Chord Progressions" with Ms. Kadi - instructor of piano.(compliments of our Lagniappe Lesson Series).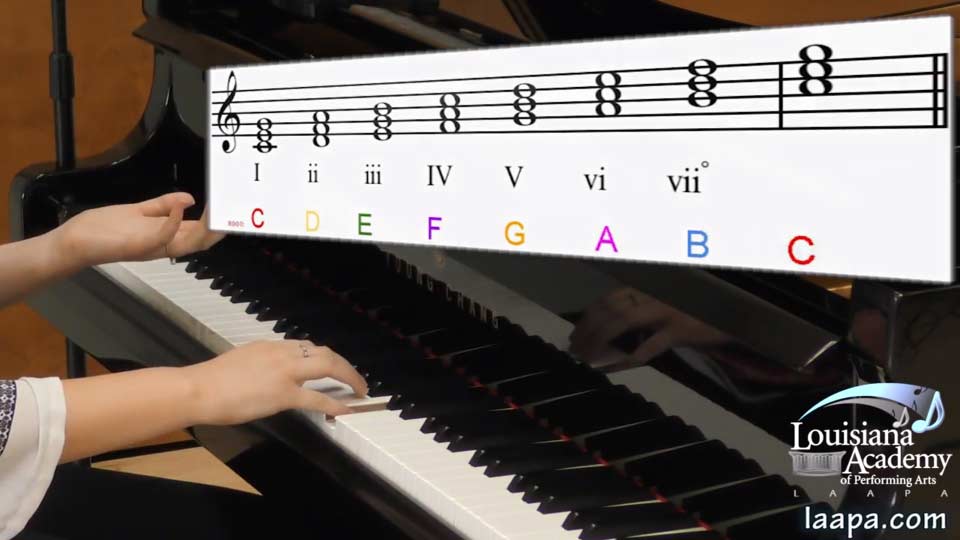 Ms. Kadi, instructor of piano and voice at LAAPA discusses the basics of chord progressions at the piano. Chord progressions are the order and time in which harmonic structures move. In this video you'll learn all of the chords/triads in the key of C major. After watching, see if you can play the chords in a variety of different orders to create your own progression and song!.
Learn More About Piano Lessons
Voice Lessons in River Ridge for ages 5-adult
Perhaps you know someone in your family that literally cannot stop singing? They constantly have music in their heads that must be shared at all times! Our vocal instructors work with many students like this and would welcome the opportunity to share their years of experience with you! Our vocal instructors are able to teach students in a variety of musical styles including classical, jazz, rock, pop, blues, opera, broadway/musical theater and more. Just need a few lessons for an audition or other event prep? We also offer vocal coaching sessions!
Watch a voice lesson below (compliments of our Lagniappe Lesson series) as Mrs. Carolyn, vocal instructor, demonstrates "Microphone Techniques for Vocalists".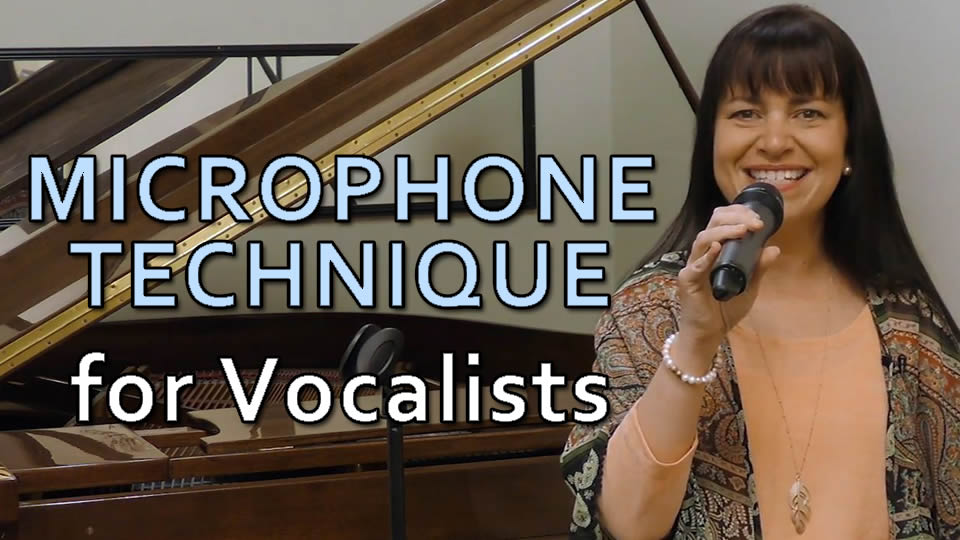 Learning how to properly hold a microphone while singing it crucial to a successful performance! Mrs. Carolyn shows you all the tips and tricks you need to know in this Lagniappe Lesson!
Learn More About Voice Lessons
Guitar Lessons in River Ridge (ages 6-adult)
Guitar lessons mean different things to different people. Some of our students want to learn the basics from the very beginning including how to hold the guitar, strumming and fretting their first chords, and reading standard and tab notation. Our guitar teachers are able to recommend many excellent method books to help achieve this! Other students may not be as interested in reading music and more interested in transcibing guitar solos from their favorite bands. We're ready to help no matter where your interests and goals lie!
Watch a guitar lesson below (compliments of our Lagniappe Lesson series) as Mr. Ryan, guitar instructor discusses "Improvising with the Blues".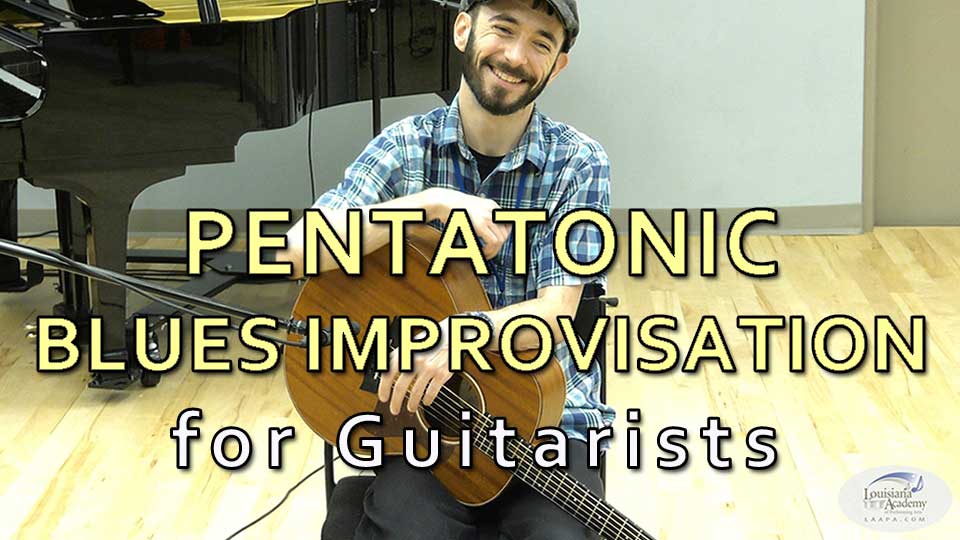 Mr. Ryan, Instructor of Guitar and General Music at LAAPA will walk you through how to get started with improvising over the 12 bar blues on the guitar. By the end of the video you'll have learned what a pentatonic scale is, the blues scale in E as well as many of his tricks including "hammer-ons", "pull-offs", "vibrato", "slides" and special patterns he likes to use in his own improv. For beginning guitar lessons, you may enjoy this video in our Blog from Mr. John.
Learn More About Guitar Lessons
Violin Lessons (as well as viola, cello, & doublebass lessons) in River Ridge (ages 4-up)
Violin lessons at the River Ridge School of Music & Dance begin at age 4. All of our violin instructors and string program teachers are able to work with students at such young ages through the Suzuki Violin method as well as Evelyn Avsharian's "Songs for Little Players" (and more) both of which provide a very basic approach to getting started in music notation.
Our violin instructors are extremely versatile stylistically and love teaching not only classical music, but fiddling, bluegrass, jazz, cajun/zydeco, improvisation and more! Many of our teachers perform in a number of different ensembles as violinists in organizations such as the Louisiana Philharmonic Orchestra, the Baton Rouge Symphony Orchestra, and the Gulf Coast Symphony, etc.

As with any musical instrument, violins come in at a variety of price points. You can learn a little more about what to look for in terms of quality and corresponding pricing guidelines on our main violin/string page (click the red button below). We are also more than happy to have one of our violin teachers offer his/her opinion(s) if you are trying to decide between a few different models.
Watch a Violin Lesson with Dr. Vera on building Finger Strength!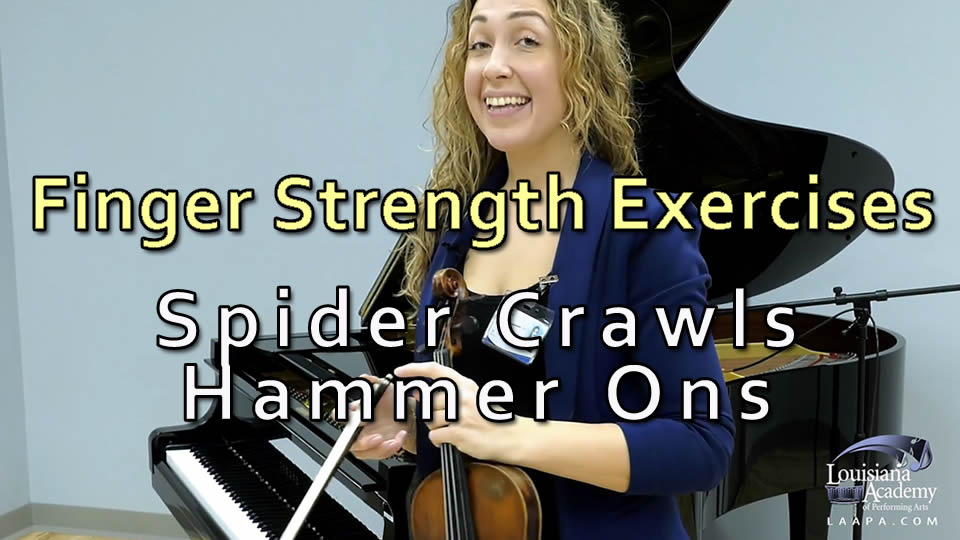 In this episode of our Lagniappe Lesson series, Dr. Vera demonstrates how to warm up properly and develop strength in your bow hand through spider crawls. She also discusses hammer ons to improve finger strength and pitch accuracy.
Learn More About Violin Lessons
Drum Lessons in River Ridge (ages 5-up)
Drum lessons begin as early as age 5 for students who are ready to rock and roll!
All beginning drummers will typically start with praciticing on the snare drum to become familiar with basic stick control and rhythms. So, you don't need to purchase a full drum set initially, but rather just a snare drum. Depending on how quickly the student is able to master the snare drum, the rest of the set will be added accordingly!
Watch a Drum Lesson with Mr. Josh on Basic Rudiments!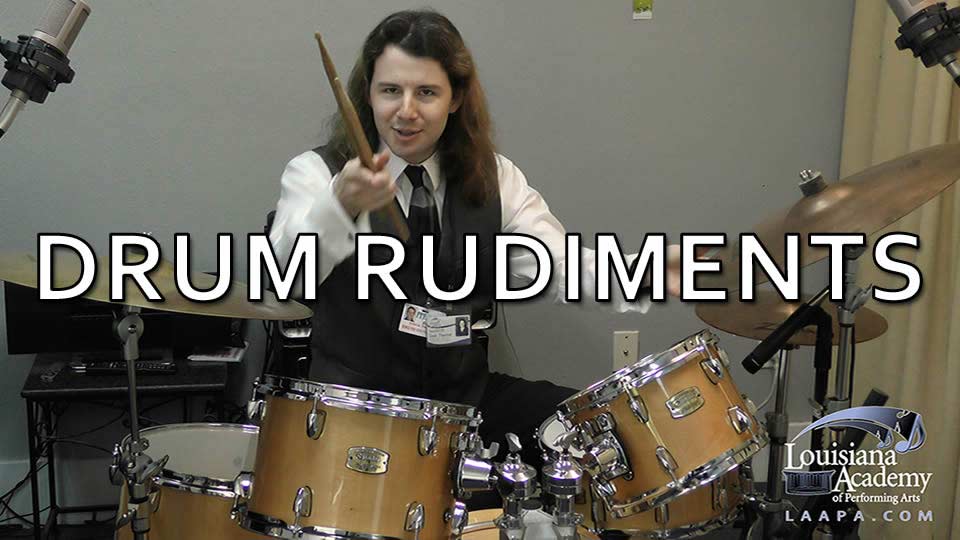 In this episode of Lagniappe Lessons, LAAPA drum instructor, Mr. Josh, demonstrates some essential rudiments and techniques on the drum set. By the end of the video, you will be playing along to "We Will Rock You!"
Comprehensive Listing of all Music Programs Offered
We realize that you have a choice of many music academies and schools in the Greater New Orleans area which is why every day we work to ensure that we are offering our students the best possible educational experience with exceptional faculty members, the best facilities, and a vast selection of music and dance programs to offer students of all ages.
A comprehensive listing of our music classes offered at the River Ridge School of Music & Dance include instruction in piano-lessons, guitar, voice, singing, vocal coaching, violin, bass, trumpet, flute, saxophone, drum, jazz studies, jazz band, choir, ensemble, preschool music, viola, cello, composition, theory, ear-training. Our music instructors teach a variety of styles including classical, jazz, r&b, christian, country, blues, ska, and more.
River Ridge School of Music & Dance - Brief History
The beginnings of the River Ridge School of Music & Dance came to be in the late 1970's when Assistant Director, Director Emeritus, and Founder Wanda Cullen began teaching piano lessons in the back of her River Ridge home in 1968 (DBA Wanda Cullen, School of Music).
In 1982 she hired a second piano instructor (Associate Director, Russell Tucker), and then a third, etc. In the school's early days, piano lessons in the River Ridge area were the only programs offered. Word of the piano lessons spread quickly, and Wanda moved her school to its first commercial location known as "River Ridge Music School" on Jefferson Highway above the Village Inn Restaurant.
At that time additional programs such as violin, guitar, voice, as well as brass/woodwinds began to be offered at the school. As growth continued and space increasingly became tight, the school moved two other times including to Jefferson Highway behind St. Matthew the Apostle School in River Ridge. The school moved to its present 4,000 square foot location on Dickory Ave. in early 2010 and now provides music lessons and dance classes to hundreds of students and families each week.
River Ridge Virtual Campus Tour