Piano Lessons in Mandeville (beginning-advanced levels)
Piano lessons are a part of the original core curriculum of the Mandeville School of Music & Dance, so it should be no surprise that we have over 30 piano instructors on the faculty ready to help you learn to play your favorite songs! When learning to play the piano, choosing the most appropriate method is just as important as choosing the right instructor!
For younger students, we often recommend the Music For Little Mozart series. Our own LAAPA Press has also published a piano method for the young beginner called, "Piano Prodigy". For ages 6-up, we use and recommend a variety of methods including Alfred, Faber & Faber, Bastien, Thompson, etc. Our Mandeville campus offers piano lessons and keyboard lessons for ages 5-adult at all levels beginning - advanced.
While many music instructors prefer to teach only advanced piano students, our piano instructors are hired for their passion for teaching students of all backgrounds and abilities. Our piano faculty members are all hand picked by the School Director not only for their teaching credentials, but for their abilities to motivate and inspire students.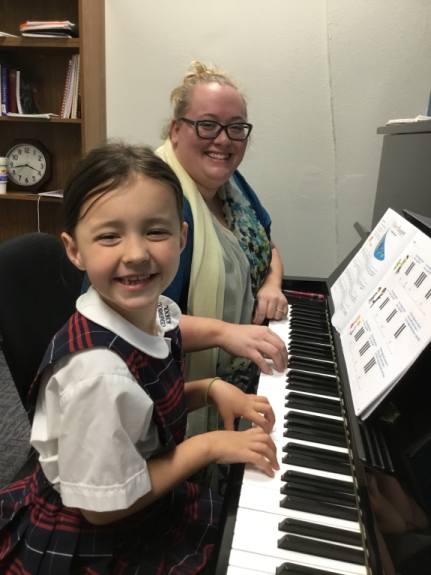 Watch beginning piano student, Evan, and his teacher, Mr. Ryan, play a cool piano duet at a recent recital!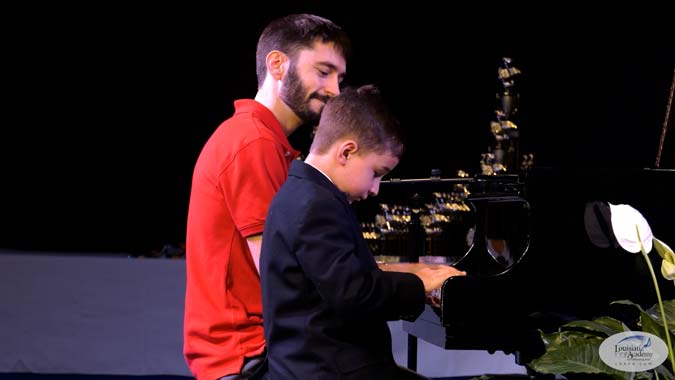 Learn More About Piano Lessons
Voice Lessons in Mandeville (ages 5-adult)
Voice lessons at the Mandeville School of Music & Dance are taught by some of the finest vocal instructors on the Northshore with university degrees from nationally recognized schools of music from around the world.
When choosing a vocal instructor, it's extremely important to select someone who has a comprehensive knowledge of vocal pedagogy (which is the study of teaching students how to sing). In music news today, you'll often find current pop stars who have to cancel events or tours due to overextending their voice or developing vocal nodules due to improper voice techniques. Our vocal instructors are all trained to teach proper warmups, breathing techniques, diction, sight-singing, piano based music theory, and age appropriate literature. Our faculty are specialists in a variety of styles of voice including classical, jazz, broadway/musical theater, opera, rock, blues, and more.
While we do start private voice lessons at age 5, great care is taken to avoid over extending the young vocal cords. At age 5, students focus on learning to match pitch, ear training, and appropriate children's repertoire from Disney, Broadway, etc. Between ages 12-13, the lesson content begins to include additional technical etudes that properly exercise and nurture the matured vocal cords.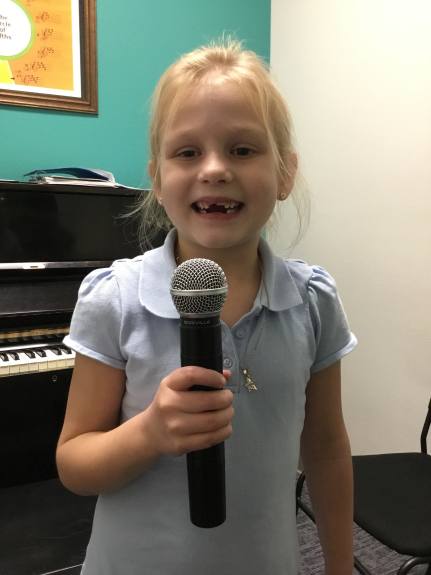 Watch vocal student, Layne, sing "Summertime" during a recent student recital.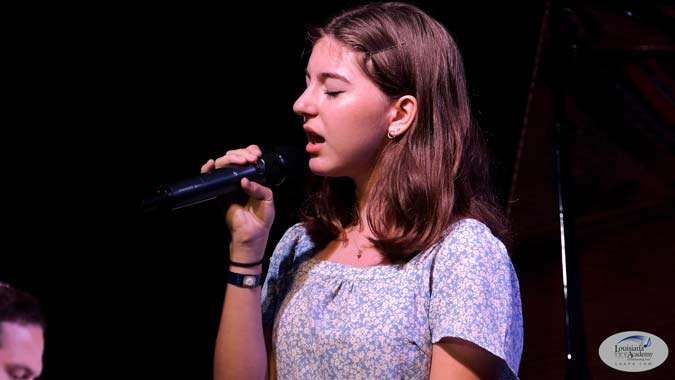 Learn More About Voice Lessons
Guitar Lessons in Mandeville for students (ages 6-up)
Guitar lessons at the Mandeville School of Music & Dance are provided in a variety of styles and formats. As all students' needs are different, we don't have a one size fits all approach to teaching. A child who is beginning guitar lessons for the very first time will have a very different lesson than an experienced adult who is ready to take his/her playing to the next level.
At the Mandeville School of Music & Dance, we're also very open to tailoring the lessons to the interests of our students. Some students may want their guitar lessons to focus on learning to play chords and read lead sheets, others may want to be able to play and improvise lead solos that they've heard from their favorite bands, and still others may want to work on classical guitar preludes and other technical exercises or perhaps a mixture of all of the above! Whether you're interested in learning to play classical, jazz, blues, rock, christian, country, etc, our guitar instructors are ready to help! We teach students of all ages and offer beginning-advanced guitar lessons at our Mandeville campus. Our guitar teachers also offer lessons in banjo, ukulele, mandolin or even the mountain dulcimer!
Most young guitar students begin on an acoustic guitar as it takes time for finger strength to build. We accept students as young as age 6 in the guitar program and we can recommend excellent 1/2 and 3/4 size guitars as needed for smaller students. Getting an instrument that is the proper size for the student is of the utmost importance to ensure a positive first experience in guitar lessons!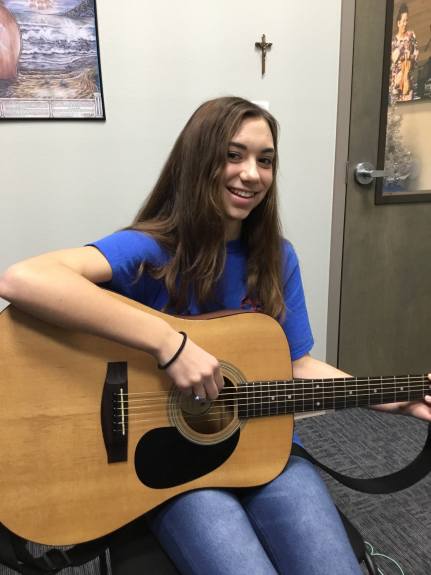 Watch guitar student, Lucy as she performs "This Is Me" at a recent student recital!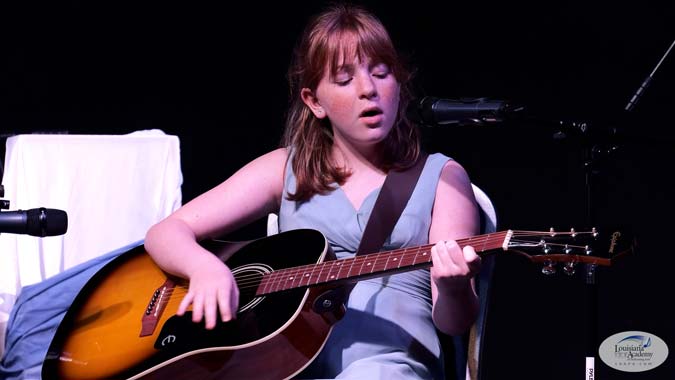 Learn More About Guitar Lessons
Violin Lessons (as well as viola, cello, & doublebass lessons) in Mandeville (ages 4-up)
Violin lessons at the Mandeville School of Music & Dance begin as early as age 4. All of our violin instructors and string program teachers are able to work with students at such young ages through the Suzuki Violin method as well as Evelyn Avsharian's Songs for Little Players (and more) both of which provide a very basic approach to getting started in music notation. As our violin students age, our faculty are quick to incorporate traditional note reading and music theory as well.
For older students, whether you're interested in traditional fiddle music or classical violin sonatas, our violin faculty will help you to reach your goals. In addition to being excellent teachers, many of our violin teachers perform with the Louisiana Philharmonic Orchestra and other local orchestras. Parents of students under age 5 are encouraged (but not required) to participate in the lessons so that they can help them to practice at home.
Parents and students who are just getting started in violin lessons should know that violins are unique in their physical builds. They have a variety of available size options (almost as many as a pair of shoes!). This can sometimes make it confusing when trying to figure out the best violin size for you or your child. Before purchasing your instrument, we always encourage all new students to first stop by the school and have one of our violin instructors size them. If you are working with a local violin store, they can also make recommendations while you are shopping.
As with any musical instrument, violins come in at a variety of price points. You can learn a little more about what to look for in terms of quality and corresponding pricing guidelines on our main violin/string page (click the red button below). We are also more than happy to have one of our violin teachers offer his/her opinion(s) if you are trying to decide between a few different models.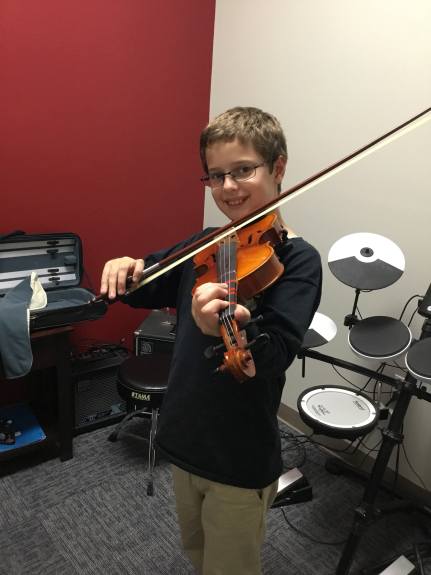 Watch violin student, Saanvi as she dazzles the audience with her arrangement of "A Thousand Years"!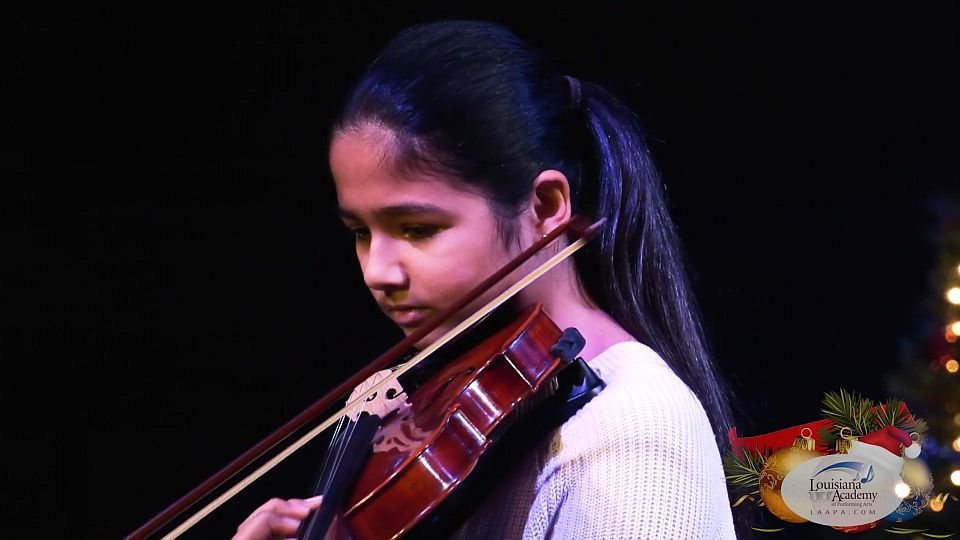 Learn More About Violin Lessons
Drum Lessons in Mandeville (ages 5-up)
Our drum lessons and percussion instruction at the Mandeville School of Music & Dance begin as early as age 5 and typically focus on just the snare drum at first. The reason for this is because the snare drum is at the heart of the drum kit and basic rhythms and rudiments must be introduced and mastered there before proceeding. That being said, it generally isn't very long before the diligent student is ready to move on to the full drum set.
At the Mandeville campus, we have both acoustic and high quality digital drum set with mesh heads for the best volume and technical controls. Our drum instructors are comfortable teaching in the styles of rock, jazz, pop, marching band, r&b, christian, country, and more.
In addition to the standard drum set, our percussion faculty are also comfortable teaching traditional marching band style drum techniques/fancy stick tricks, etc to prepare students for their school band drumlines. In fact, several of our drum teachers are current or former band directors at local schools such as Mandeville High School!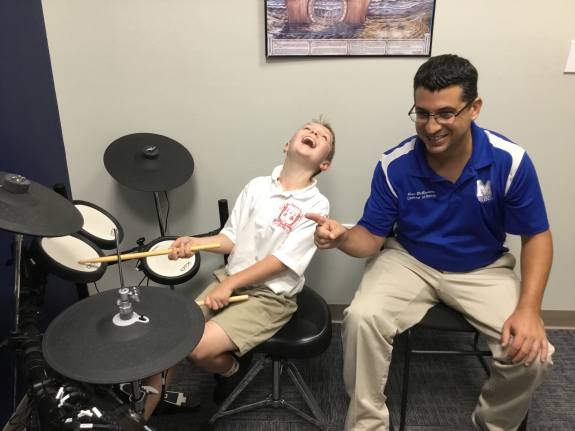 Watch drum student, Charlie rock out during a recent student recital!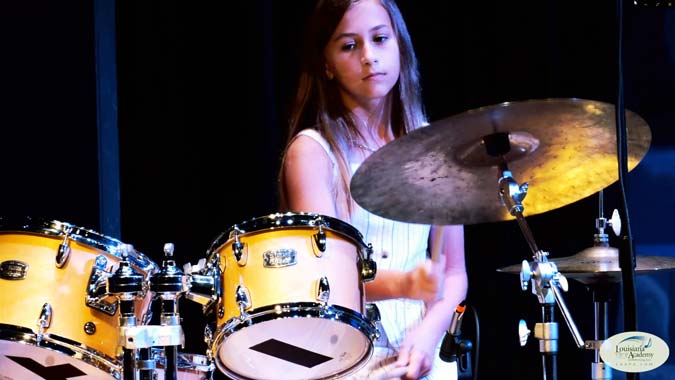 Comprehensive Listing of all Music Programs Offered
We realize that you have a choice of many music academies and schools in Mandeville which is why every day we work to ensure that we are offering our students the best possible educational experience with exceptional faculty members, the best facilities, and a vast selection of music and dance programs to offer students of all ages.
A comprehensive listing of our music classes offered at the Mandeville School of Music & Dance include instruction in piano, guitar, voice singing, vocal coaching, violin, bass, trumpet, flute, saxophone, drum, jazz studies, jazz band, choir, ensemble, preschool music, viola, cello, composition, theory, ear-training. Our music instructors teach a variety of styles including classical, jazz, r&b, christian, country, blues, ska, and more.
Watch a Music Lesson Below!
Watch as Mr. Chris, instructor of music (guitar, songwriting, piano, drums, etc), discusses how to compose and write in the pop style. If you're an aspiring musician/singer/songwriter, get out your guitar and notebook and be ready to learn a variety of chords, melodic composition tools, tips and tricks. The lesson below is courtesy of our Lagniappe Lesson Blog series. You can check out some of our many other blogs here!