Ballet Classes (ages 4 - adult)
The mission of LAAPA's ballet school at the Mandeville School of Music & Dance & River Ridge School of Music & Dance is to bring the joy of dance to kids, teens, and adults. Students of all levels and abilities are welcomed into our ballet programs.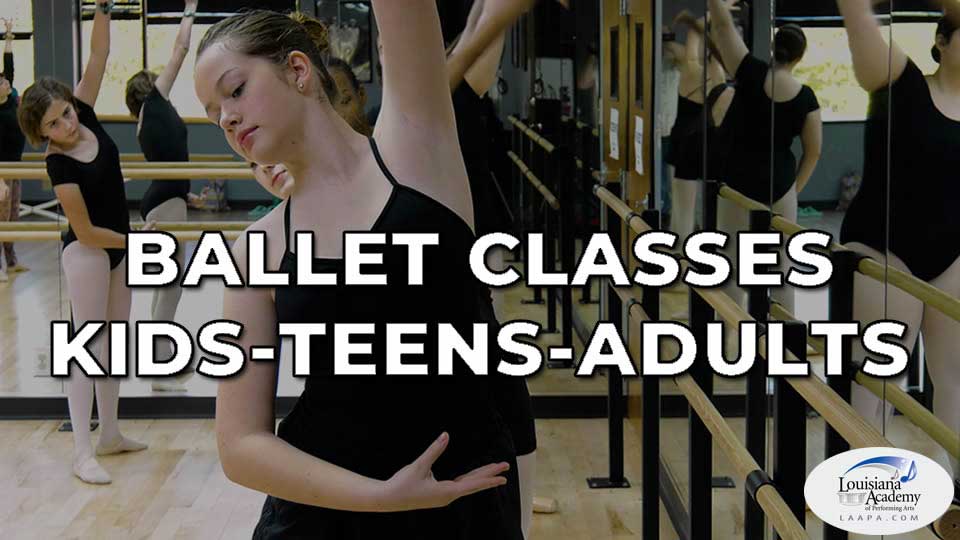 About the Ballet Program
Our ballet classes are offered at various times during the week to students at our Harahan and Mandeville campuses beginning at age 4. Ballet is the root of dance; therefore, we encourage all students to begin their dance training in this program. A variety of positions, techniques, and terminology are introduced and reinforced within each class. The culmination of the student's hard work and training will be presented at our Spring recital and Christmas Show through creative and original choreography. Below are class descriptions of our specific class levels:

Watch some of our students learning in class!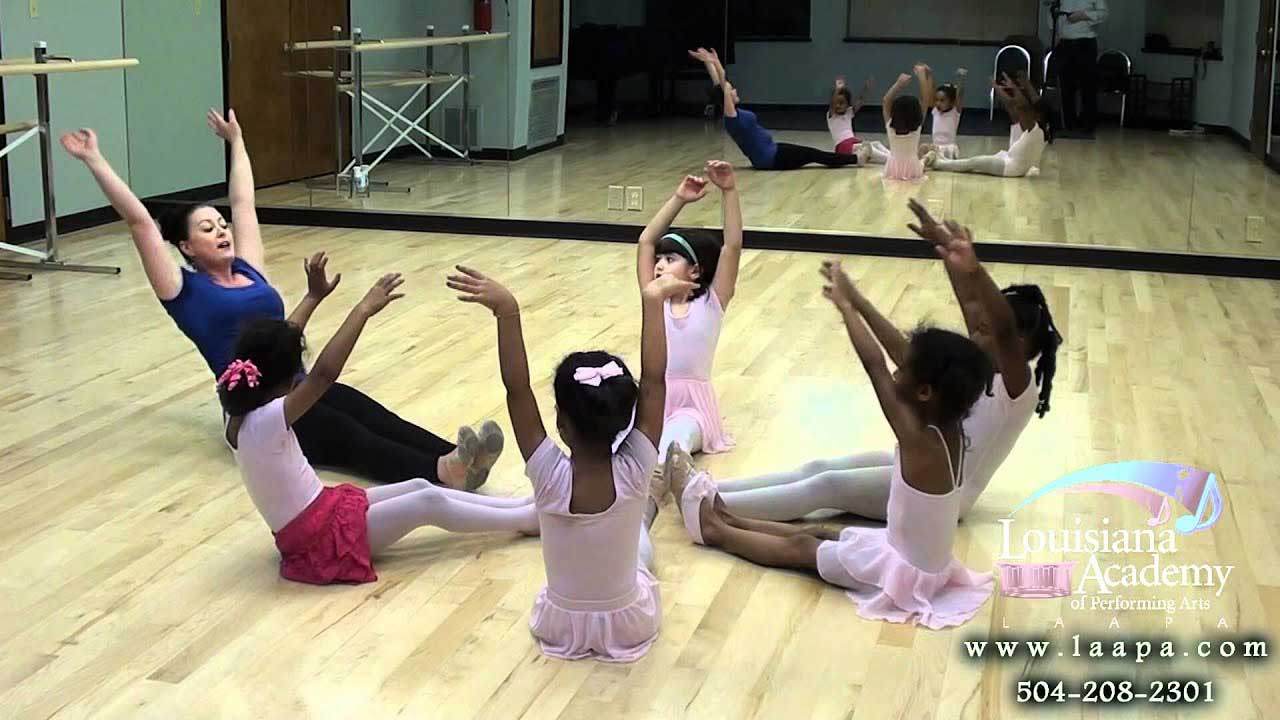 Pre-Ballet (Ages 4-6)
In this course, students are introduced to basic ballet technique in a fun, creative way. They will learn the basics of barre (bar) work, such as plie's, releve's, and tendues, center combinations, and across the floor movement, such as skips, chasse's and leaps, all blended with fun imaginative games and creativity. This class will teach your young dancer to explore movement, learn basic performance technique, proper class etiquette, and imagination, while also building a solid foundation in terminology to help them in their dance journey.

Ballet I (Ages 7-up)
In this course, students focus on building a strong technical foundation in the ballet aesthetic while maintaining a fun and creative atmosphere. Our teachers continue to build off of the basics established in pre-ballet, and help the students delve deeper into more complicated steps and terminology. These dancers learn fundamental alignment, body positions and vocabulary that will inform their future dance experiences as they move to the next level. In this class, we begin focusing on balance, one-legged work, two-footed turns, and movement combinations to begin teaching our students how to challenge themselves physically and mentally.***Please note that Ballet I is a Pre-Requisite to Ballet II***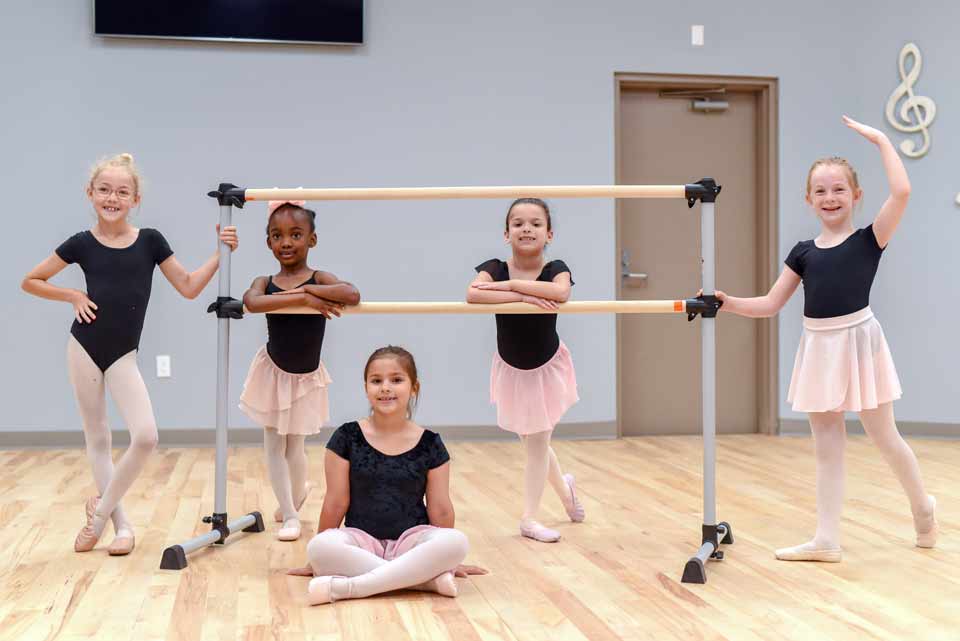 Ballet II
Ballet II is a mandatory twice a week class that begins to challenge students physically and mentally. In this class, students learn intermediate level ballet technique and terminology that they then apply to more complex combinations. This class is a preparatory class for pointe work, so there is a strong emphasis on strength building. One-footed turns and pirouettes, intermediate leaps, and more difficult balances are taught in this class. Students will learn how to dance to different rhythms (i.e. waltz and tango), increasing their musicality, and they will begin to explore ballet history as well as current professional dancers. They will also be expected to memorize longer combinations and performance pieces. ***Ballet II is not a beginning level class, so we recommend that brand new beginners in this age group substitute one of the weekly classes with a Ballet I class in order to meet the Ballet I pre-requisite.***

Ballet III
Ballet III is an advanced ballet class that focuses on pointe work (for women) advanced leaps and jumps (for men), and complex combinations and movements. This class, like Ballet II, is mandatory twice a week to help students continue to build strength and endurance. Students will continue to be challenged physically and mentally, while diving deeper into technique, flexibility, injury prevention and dance history. Students will learn how to execute multiple turns, more difficult leaps, beats, and balances en pointe. ***Ballet III is not a beginning level class - brand new dancers in this age group should consider private instruction or (in some cases) our adult ballet classes to meet pre-requisites. All students entering Ballet III will be assessed by the faculty to ensure readiness.***
About our Ballet Instructors
All of our Ballet faculty have been classically trained in Ballet and have extensive knowledge and backgrounds in Ballet at a University level. We ensure all of our ballet instructors have an in-depth understanding of ballet etiquette, ballet history, terminology, technique, proper body alignment, injury prevention, and pointe training. Many dance teachers at other studios wear multiple hats, pushing themselves to teach styles that they are not proficient in. Here at LAAPA, we ensure that all of our dance instructors, even for our younger levels, can teach up to an advanced level in each style we offer.

Watch a sample ballet class from our Lagniappe Lessons series on "Plies."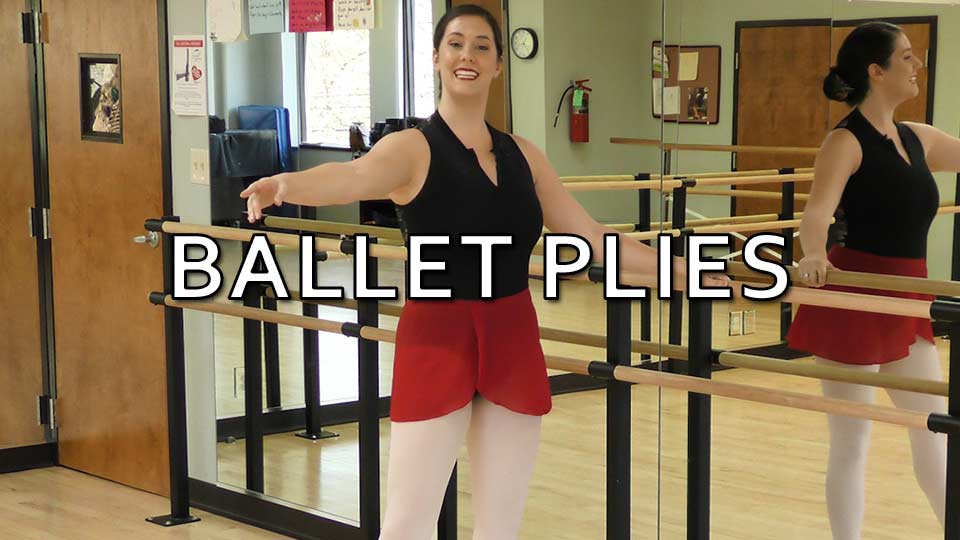 Registration for Ballet Classes is offered year round either online or in person!
Brand new dancers interested in getting started or transferring into our ballet program may get started at any time.

Some frequently asked questions regarding our ballet school that we receive include:
"What do I need to get started in ballet?"
Please see our dress code policy for a full list of what your child needs to start dance lessons.

"Does my child need to do pointe work to be in an advanced level?"
Pointe training is part of the natural progression in ballet training, and we encourage all students who are at the proper age and level to try it, but we understand that it is not for everyone. If your child is not interested in dancing en pointe, they will still be welcomed in our advanced classes and will progress with the rest of their classmates.
"What about boys?"
Boys are always welcome in our LAAPA Dance program! Our professional teachers have experience working with both genders and strive to make each individual child feel comfortable exploring ballet.