A Beginner's Resource Guide for Music Lessons
If you've been researching how to get started in music lessons for yourself or a child, what is needed, what to expect, then you're in the right place! As we offer a variety of instruments and programs for kids, teens, and adults, we have made an attempt to provide an overview of each offering below so that you are able to evaluate and make the best possible decisions. We consider this guide to be fairly universal with all music teachers, so it should serve as an excellent introduction wherever you ultimately choose to receive instruction.
Program Offerings By Age
At LAAPA, as well as with other music schools and instructors, the age of the student determines enrollment eligibility in various programs. In general students 18 months to 4 years of age will have the most success in a toddler music or preschool music class which will focus on building a general awareness and love for music, as well as social skills, listening skills, and a general overview of a variety of musical instruments. Students ages 5-up are generally ready for private instruction; however, age is just one determining factor. Physical strength, physical size, student's attention span, and level of interest are also determining factors. So while some students may be qualified to start in private lessons a little earlier than age 5, others may need to wait until age 5.5 or 6. Starting too soon could result in a negative experience with music, and we always want our students to develop a lifelong love of the performing arts! Below you'll find our age recommendations and a summary of each program.
Toddler Music/Preschool Classes
Preschool music classes offer an excellent first formal introduction to music for toddlers and lap babies ages 18 months - 4 years. Classes focus on the development of the whole child by listening to a variety of styles of music from around the world, singing, dancing, etc. Parents often attend all or part of these classes with their child. Preschool classes provide these young students with a basic foundation in key concepts that prepare them for private instruction.
Piano Lessons
At the heart of music is the piano, and it is no coincidence that the piano is often the first instrument of the beginning music student. Its comprehensive and visual nature within the fundamental realm of music allows for an education that will translate well into any other area of music. Instruction is available in all styles such as classical, jazz, pop, blues, country, rock, contemporary christian, etc. We have generally found age 5 to be an excellent time to get started in piano lessons.
Guitar Lessons / Banjo / Ukulele
Age 6-7 is typically a great time to begin guitar lessons. Younger players may find playing a bit too strenous on their hands due to the amount of finger and hand strength needed to sound notes and chords. Students ages 5-6 who show an interest in guitar will have a much easier time and more fun learning ukulele for a year or two before switching over to guitar. Every lesson learned on ukulele will will translate perfectly to the guitar when ready! Bass guitar students may begin studying as early as age 8. Bass guitars are usually larger/heavier instruments whose physical demands are most often best left to this age or older.
Voice / Singing Lessons
Age 5 is recommended as the youngest age for voice/singing lessons. Due to the physical nature of voice lessons (proper breathing techniques, development of the vocal chords, and lung capacity), special care must be taken to select repertoire that is appropriate to the developing voice especially between the ages of 5-11. At LAAPA, children ages 5-11 learn how to properly use their voices in a fun/relaxed environment. At age 12, our traditional voice lessons begin which include the study of additional repertoire including classical arias/etudes, broadway, and jazz selections, and of course any particular pieces the student is interested in learning!
Violin / Viola / Cello Lessons
Violin students are able to begin lessons as early as age 4. Some schools and private instructors will accept students as early as 2 or 3. The Suzuki method of instruction is typically the first introduced to violin students as it de-emphasizes the need to read notes to play. As many violin students can come away from years of violin lessons without being able to read music, we use a hybrid method that combines the ease of the Suzuki approach along with learning to read music. Instruction in Viola begins at age 10. Instruction in Cello begins between ages 5-6.
More about Violin Lessons More about Cello Lessons
Drum Lessons
Students as young as age 5 have been successful in weekly drum lessons. This can vary from child to child and is highly dependent on the student's ability to concentrate and maintain focus on the topics at hand. A full drum set is not necessary to begin drum lessons as new students typically are first introduced to the snare drum. The additional drums and cymbals are introduced as the student progresses.
Flute / Clarinet / Saxophone Lessons
Instruction for instruments of the woodwind family usually begins between the ages of 8-10. Learning the correct embouchure (mouth position) for all woodwind instruments is notably the most challenging starting point. With proper instruction and patience, it quickly becomes second nature.
Trumpet / Trombone / Tuba Lessons
Instruction for instruments of the brass family usually begins at the age of 9 for the trumpet and ages 10-11 for the trombone and tuba. All members of the brass family require a large amount of facial musle memory and control to produce the various pitches correctly with the limited number of key triggers native to the instruments.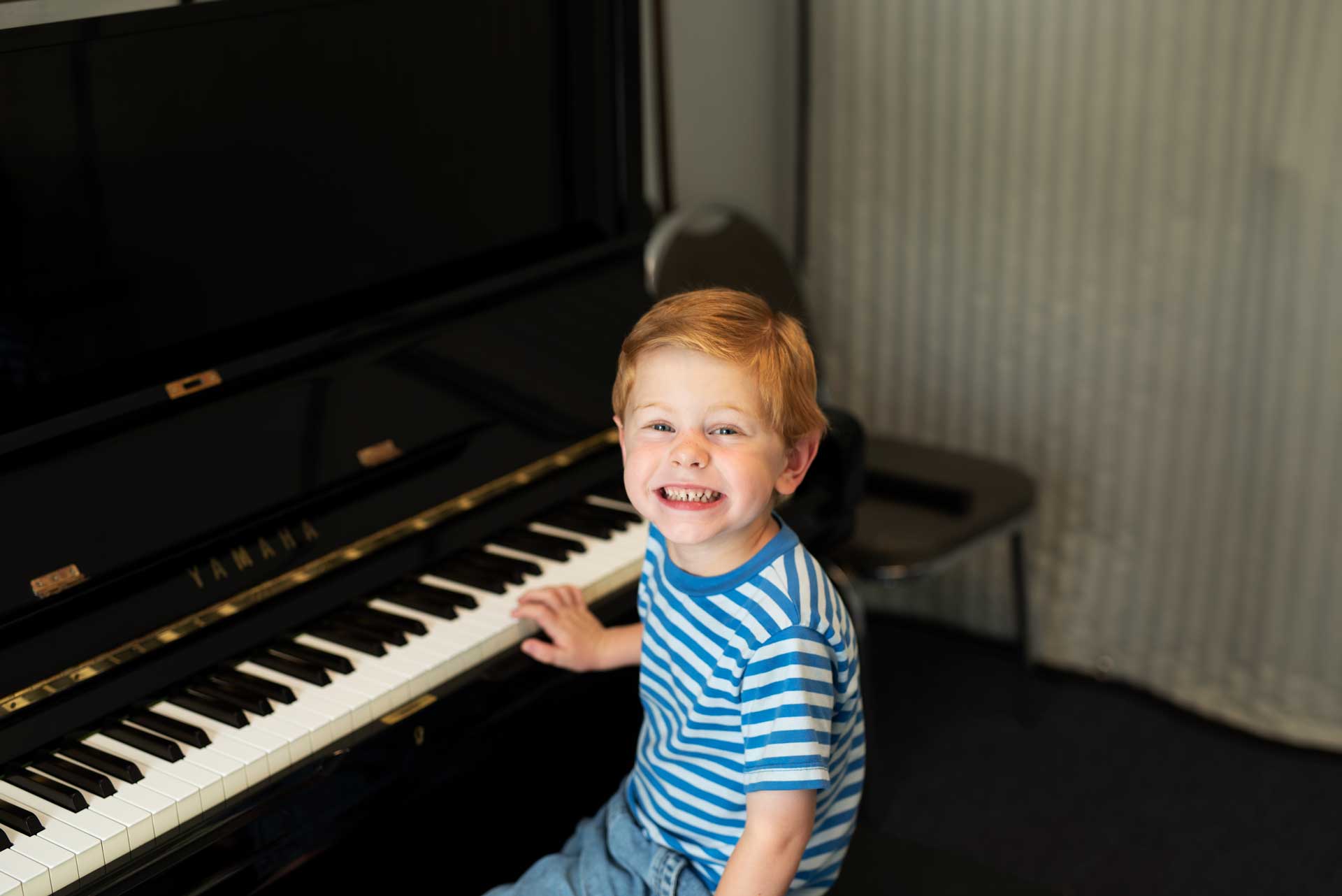 Why Private Lessons Work Best
Group classes work well for ensembles and young beginners in our toddler music program as generally everyone is new and/or progressing at similar levels. As students grow, their learning paces will begin to differ and, in our experience, it is of the utmost importance that the instructor have a dedicated period of time to address each student on his/her individual level. Private instruction will be more productive as the instructor has the time and focus to work on the individual student's strengths and weaknesses. For that lesson period, the student is the primary focus. Beginning students in piano (ages 5-up), voice (ages 5-up), guitar (ages 7-up), and violin (ages 5-up) may choose to enroll in either semi-private or private instruction when getting started here at LAAPA.
Always Take Lessons in a Professional Teaching Environment
In home lessons are certainly convenient; however, a home environment lacks the "distraction-free" zone that only a professional music studio can offer. Family and friends won't accidentally pop in, there will be no need to answer the phone, text, answer the door for a neighbor, sign for a package, try to cook dinner and care for your children while taking your lesson, or make continued requests to turn the TV in the other room down. Music lessons taught within a school environment also present the student with an opportunity to meet, listen to, and/or perform with a variety of other musicians. Lessons taught at most professional music schools in Mandeville, Harahan, and Covington also ensures that the Instructor is qualified and capable of teaching. The practice of hobbyists trying to make a few extra dollars on the side by teaching beginning music lessons is not uncommon. Don't be afraid to additionally request the qualifications of the Instructor. Does the Instructor hold a degree in Music or have equivalent professional experience or University Training for example?
Practicing: The Path to Musical Success for Students, Parents, and Teachers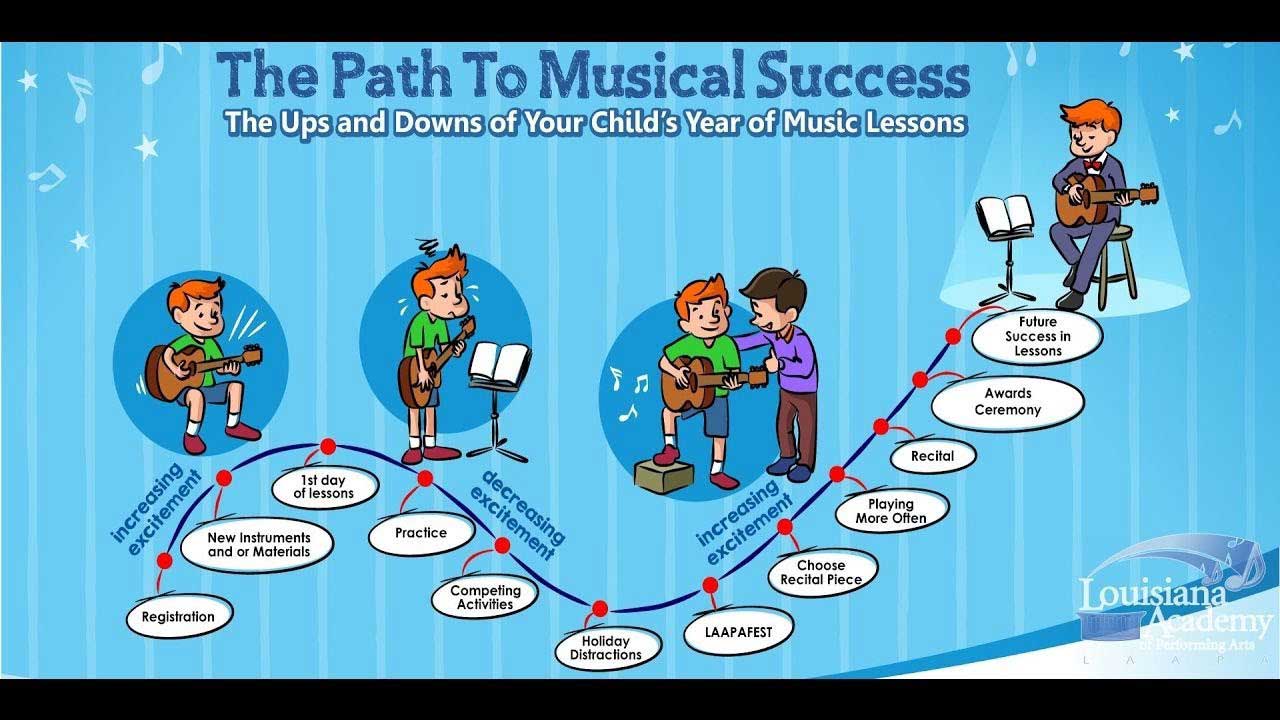 As with learning anything, improving in music takes practice. In the above video, faculty members, Mrs. Katarina and Mr. Ryan discuss their early practice challenges as well as their observations with student practice habits. In general, excitement is high when one first begins lessons, and everyone can't wait to practice! As the honeymoon period wears off, practicing can become a bit more sparse as the student progresses and reaches more challenging lessons, but then with hard work and recital preparations come various breakthroughs and excitement again soars! So, it's important to know that there will be periods of ups and downs with motivation and wanting to practice.

Also, while it's wonderful if your 6 year old loves to jump up on the piano by himself everyday and open his notebook to practice his assignments, this is not typical behavior at that age. It isn't reasonable for parents to expect their child to automatically go and practice without any reminders, incentives, or parental guidance. Our most successful parents and students work together and parents need to encourage practicing especially in the first year to develop good habits and not give up too early! Here are some ways to make practicing easier:

Time: Set the same time every day to practice so it becomes part of a routine or habit. This works particularly well for children. Generally the earlier in the day the practicing can occur, the less reminding is required by parents to get the child to practice.

Repetition: We use this method quite often when setting practice schedules for beginners. For a young child 20 or 30 minutes seems like an eternity. Instead of setting a time frame, we use repetition. For example, practice this piece 4 times every day, and this scale 5 times a day. The child then does not pay attention to the amount of time they are practicing their instrument, but knows if they are on repetition number 3, they are almost finished.

Rewards: This works very well for both children and adult students. Some adults reward themselves with a cappuccino after a successful week of practicing. Parents can encourage children to practice by granting them occasional rewards for successful practicing. In our school we reward young children with stars and stickers for their work, as well as placing their names on the flashing electronic board in our waiting areas for 3 superior ratings earned in a month's time. Praise tends to be the most coveted award - there just is no substitute for a pat on the back for a job well done. Sometimes we all have a week with little practicing. In that case there is always next week!

Repertoire: It's crucial for parents and students to communicate openly with the teacher and administrative staff about the kinds of music that the student wants to work on to both maintain interest and build motivation to practice! If the entire lesson each week consists of music he/she is unfamiliar with/has never heard, it will be much more difficult to gain traction and excitement.
Use Recognized Teaching Materials
There are some excellent materials developed by professional music educators that are designed for students in a variety of situations. Additionally, our own LAAPA Press has published several titles by our own award winning faculty members. There are books for very young beginners and books for adult beginners. Teaching materials are available for all ages and levels in any situation. These materials have been researched and are continually upgraded and improved to make learning easier and ensure that no important part of learning the instrument can be inadvertently omitted. If the student should relocate to a different part of the country, qualified teachers and institutions will recognize the materials and be able to provide a smooth transition in your music instruction.
Remember to Have Fun!
At the end of the day, music needs to be fun and enjoyable. Realize, as the teacher should, that each student will learn at his/her own pace. Be sure to arrange for daily practice and set reasonable weekly goals. This will enable the student to develop a lifetime appreciation for the art of music.