Guitar Lessons / Electric Guitar / Banjo Lessons (ages 6 - adult)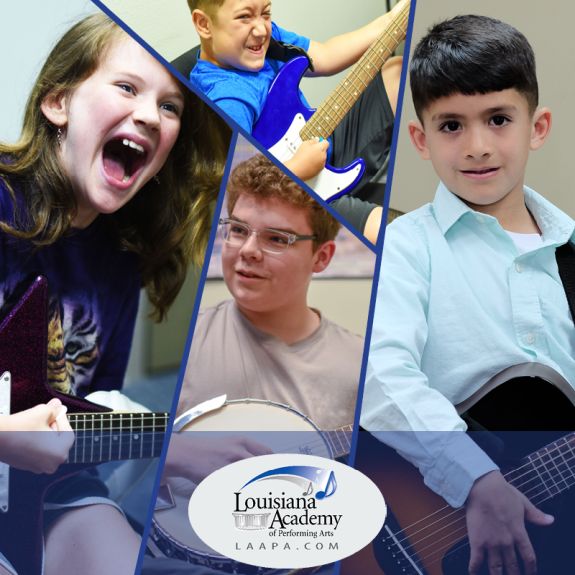 About Guitar Instruction at LAAPA
Guitar, Bass, Banjo, Mandolin, Dulcimer, and Ukulele Lessons at our Covington, Mandeville and River Ridge schools of music are available at beginning, intermediate, and advanced levels. Whether you've never picked up a guitar before or are already learning to play solos and chords from your favorite players and bands and want to take your skills to the next level, we're ready to help! Lessons begin as early as ages 6-7, and students may begin either on an acoustic guitar or an electric guitar.
There's no doubt the electric guitar has a cooler vibe to it, and many of our students want to get started right away on an electric instrument, however, if students do not have a preference, most of our guitar instructors recommend that younger students (under age 7) get started with a student sized acoustic guitar (1/2 or 3/4 scale) and nylon strings. Nylon strings are much more comfortable to play for a beginner's fingers, and an amplifier isn't required as an added startup expense.
Students under age 6 or those with very small hands may begin lessons on ukulele which will translate perfectly over to the guitar when they are ready!
Private Lessons are held for 30, 45, or 60 minutes each week. An additional weekly 45 minute group theory class is also available to all currently enrolled guitar students free of charge. Students will learn to read standard as well as "tab" music notation, play melodies, chords, and improvise. Our guitar students at LAAPA are welcome to and encouraged to bring in recordings of their favorite bands and players to learn, study, and transcribe.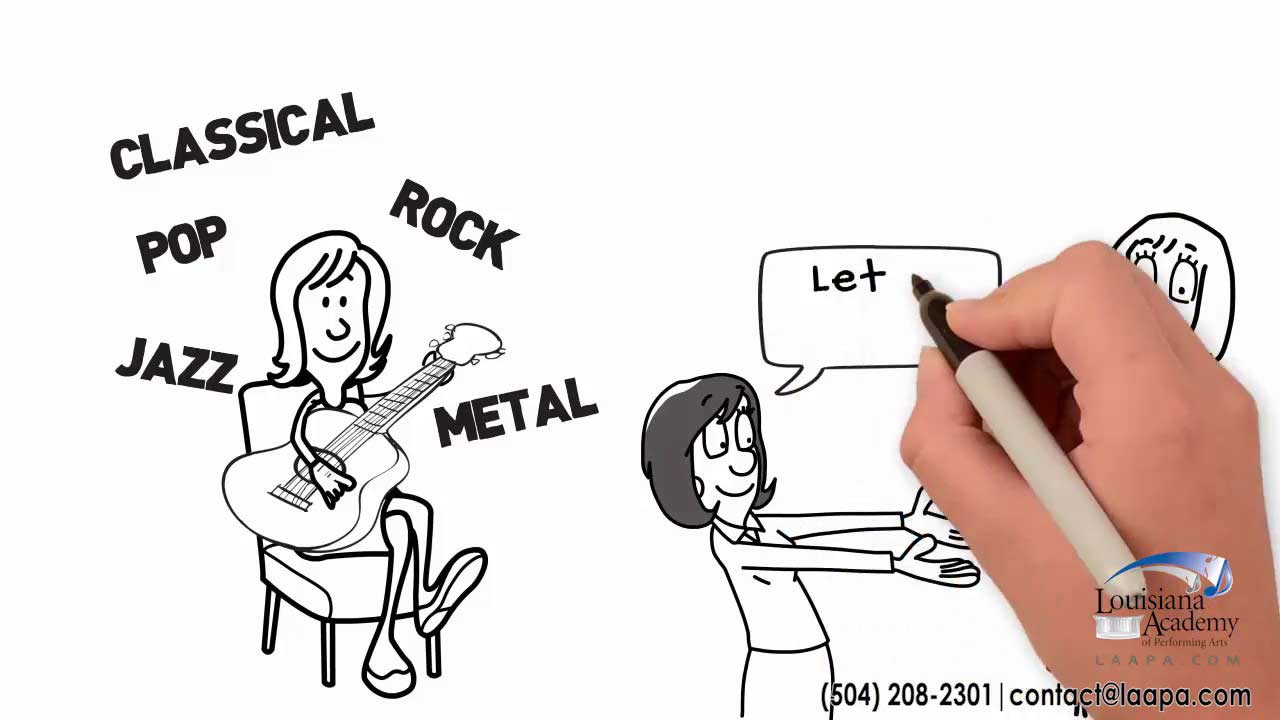 Best Guitar Lessons for Kids/Teens/Adults
With a legacy dating back to 1978, our expertise in music education is channeled into crafting a unique and enriching learning experience for aspiring guitarists of all ages. Our instructors are not only seasoned professionals but also possess a genuine passion for inspirning our students and nurturing musical talent at all stages of development. What makes our guitar lessons exceptional is the blend of personalized instruction and a curriculum that caters to the diverse interests of our students. At LAAPA, we understand that every learner is unique, and we tailor our approach to suit individual learning styles. From fundamental techniques to advanced skills, our comprehensive program ensures that both kids and adults not only master the guitar but also cultivate a deep appreciation for the art of music.
Our guitar program is open to students of all ages and we teach hundreds of beginning, intermediate, and advanced guitar lessons to kids, teens, and adults every week at all of our campuses. If you've been searching for a down to earth, friendly and inspiring guitar teacher who is professionally trained in music education, then you've come to the right place. The best guitar instructor for you is the one who will not only show you how to play your favorite songs, but will be able to do so in a manner that is both fun and progressive with clear communication and teaching methods that will have you leaving each lesson with a feeling of success and satisfaction instead of questions and frustration! Learning to play the guitar is one of life's most rewarding challenges, and we'd be honored to help you get started in your musical journey! Check out some performance and interview videos featuring our faculty and staff that demonstrate the diversity of our guitar program and our years of success in providing a top-rated music education program here on the Northshore and throughout Southeast Louisiana and the Greater New Orleans region.
What Happens at Your First Lesson?
During your first lesson, you'll meet your teacher, learn about the parts of the instrument, how to tune your guitar and how to properly position your hands. You'll learn beginning strum and pick techniques - starting with some basic power chords, three note chords and single note melodies. Part of the fun here is that you can let your teacher know what your favorite songs are so he/she can incorporate those into the lessons and create a lesson plan that is both challenging and exciting!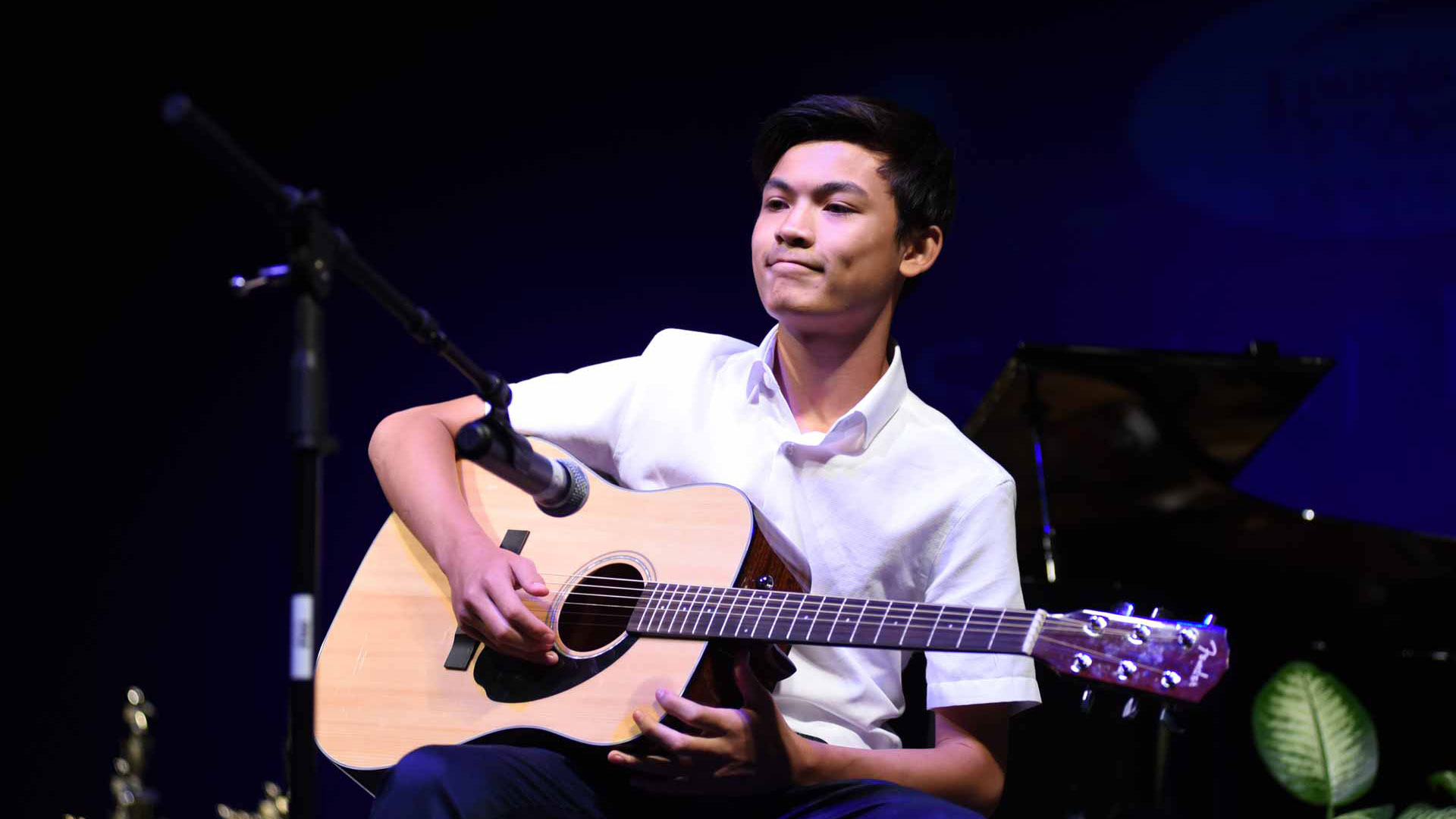 What Will Each Lesson Consist Of?
During your lessons, your teacher will most likely break up the time into several different segments to ensure coverage of multiple, essential topics. You'll probably begin with a warmup or two (such as scales (major, minor, blues, diminished, etc) and/or arpeggios. As students progress, this may evolve into transcribed patterns and trying to warm up with them in a variety of different keys (should they be interested in improvisation). The next segment will focus on reviewing your current repertoire and working to fine tune, iron out areas that need improvement. The final segment will include starting new music and/or your instructor showing you something new, fun, and cool that you can take home to implement in your practicing for the week. This is all just an example - each lesson can be exactly tailored to the needs and interests of the student!
About Our Guitar Instructors
Our guitar teachers are all hand picked by the Academy for their high level of communication and teaching skills as well as for their abilities to inspire and motivate. You'll find many of our guitar faculty members performing locally at regular gigs in various venues and clubs throughout the city of New Orleans and Mandeville and the surrounding metropolitan area. All of our instructors teach and perform in many different styles. Guitar lessons are available in rock, pop, funk, r&b, gospel, classical, jazz, christian, and more. Whether you're interested in learning classical guitar technique or are ready to rock out, your guitar lessons at LAAPA will consist of an individual lesson plan specifically tailored to your goals.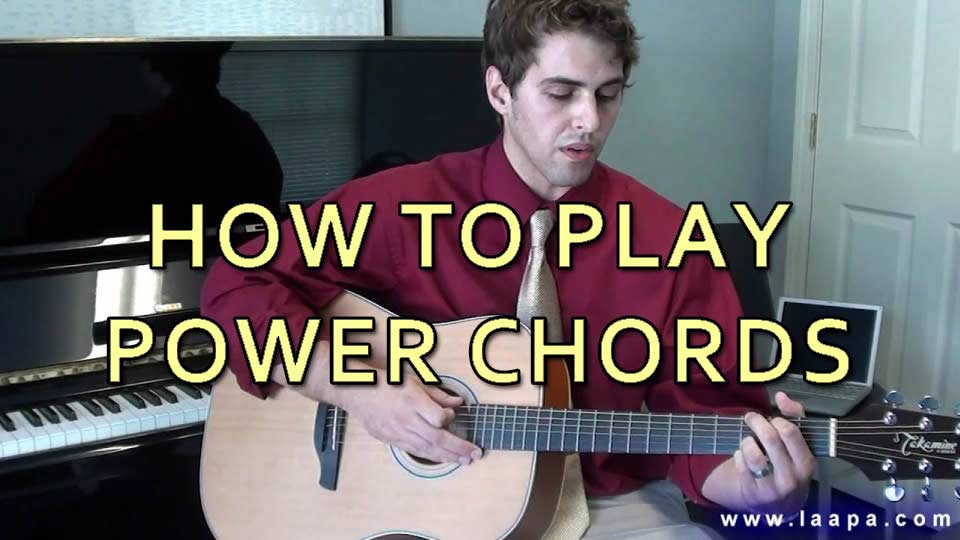 Performance Opportunities for Guitar Students
As with all of our music and dance programs, each student has a variety of performance opportunities at LAAPA. Our concerts are held each June and December, and all guitar students are encouraged to try out for one of our rock ensembles or jazz ensembles which perform at various events throughout the year. In addition to our regular concerts, many students are invited by their instructors to perform in studio showcases throughout the year. All of our performance opportunities are completely optional!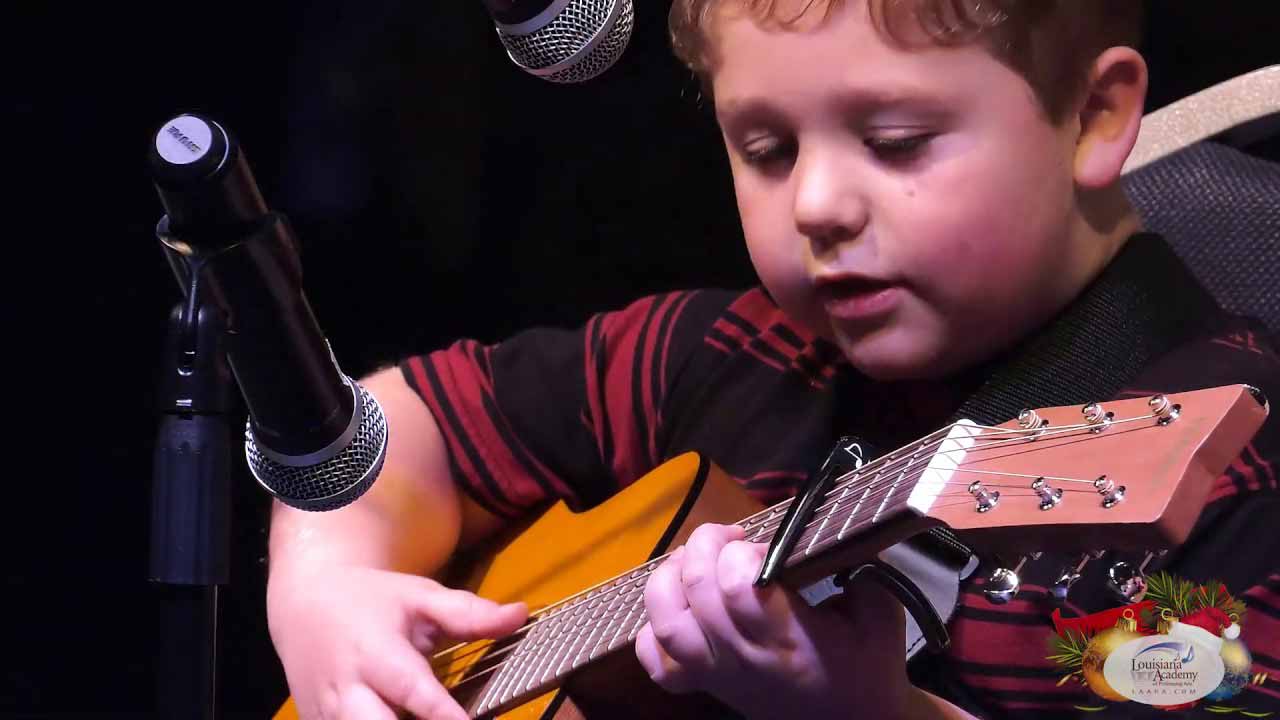 Frequently Asked Questions
"What kind of guitar should I get? / What are some well known brands?"
Most of our instructors usually prefer that students start on nylon string acoustic if they are on the younger side (under age 7-8) because steel string acoustic and electric guitar strings are a bit harsher on the fingers for beginners. Nylon strings on acoustic guitars are much easier to start with. There are so many guitar brands, old and new, but a few of the most common names to look for are Epiphone, Yamaha, Taylor, Martin, Gibson, Parker. When pricing guitars, we generally recommend avoiding the ones that seem "too good to be true." Usually it is unless you're shopping for a used instrument and the owner has detailed paperwork!
"I just want to learn some awesome lead guitar solos. Do I have to learn to read music?"
There are many different ways of reading music for the guitar, and learning to read guitar notation is completely optional. For young beginners, learning to read music is highly encouraged since it will provide the student with an additional set of skills that will be an asset especially in recording and professional ensemble situations where rehearsal times may be limited and everyone just needs to have everything ready to go in a few takes. Your teacher will discuss which type of notation is best for you. Tab notation for guitar is typically something that all guitarists are able to easily pickup and most instructors will start here. For classical and jazz guitar, traditional/standard music notation is highly recommended. Ryan Cullen, Academy Director has published a tutorial on reading standard music notation below. So to sum it up, every student is unique here, and we don't force reading on any of our students. Ear training/learning to play by ear is an equally important skill for guitar players, so rest assured that your lesson plan will be customized to your goals/interests. If you tend to learn better by ear - that's great! Your instructor will work with you to transcribe the songs you're interested in and you can either simply memorize them OR if you have trouble memorizing everything instantly, they may recommend working in tabalature which is a music notation designed specifically for the guitar. Of course if you don't mind learning both tabalature and standard music notation, that's the best route to take in terms of maximizing your knowledge of the guitar and becoming the best you can be!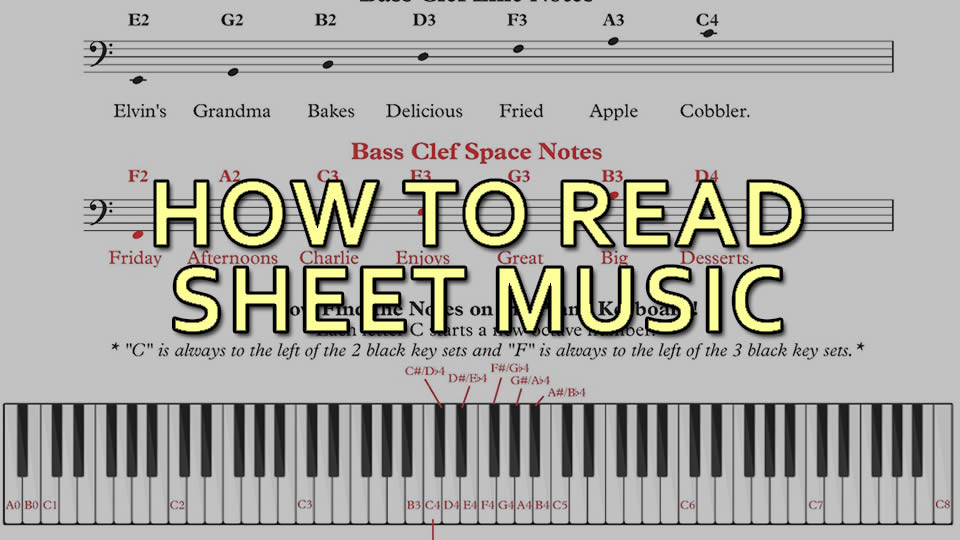 About the Guitar
With origins that trace back to the 15th century, musicians have enjoyed playing the guitar and it's predecessors for the past 4,000 years. It's popularity stems from it's ability to cross many genres and (especially with modern electric guitars) create a wide variety of timbres. Guitar players (like many musicians) are notorious for creating their own unique "voice/sound" not only through the use of different guitars (serious guitar players love to own at least 3-4), but also through the use of different amps, effects pedals, special strings, pickups, built in mics, equalizers, and now even mobile phone/tablet apps. As complex as the world of guitar can be today, every beginning guitarist usually starts with a simple acoustic (no cable/amp required) or basic electric instrument (single cable plugged into a small amplifier).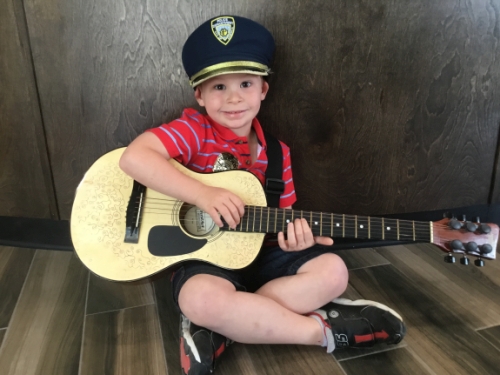 Learn more about our Guitar Lessons at our other locations: Covington, Harahan, River Ridge, Mandeville, Metairie, New Orleans