Having Fun with Music & Dance is a Commitment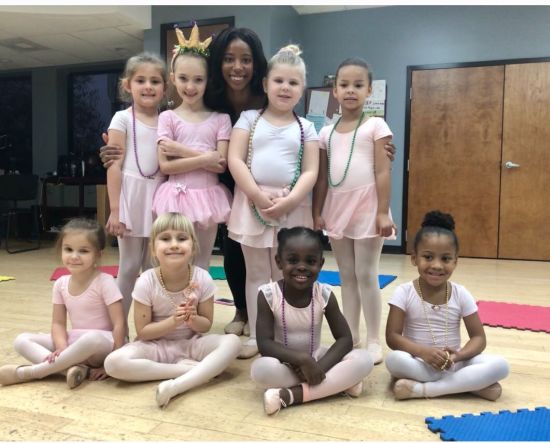 Dear Parents, Students, Faculty, and Staff:

This month I wanted to discuss the importance of "commitment" with music and dance lessons. We've covered this a bit before in a video entitled, "Practicing Music: The Path to Musical Success for Students, Parents, and Teachers." You can find it on our YouTube channel, if you haven't already checked it out, and everything in the video applies to dance classes as well.

In the video, I mention that it's important to anticipate the highs as well as lows along the way in your journey. There will be periods of immense joy as well as occasional periods of lowered interest (mostly due to the technical challenges that need to be overcome through commitment and of course, good old-fashioned practice). Think of a sine wave with ups and downs in the curve for a visual representation of this. What everyone should understand is that ups and downs are perfectly natural.

When we begin something new, as many students have this past year - everything is FUN because it's all new to us. New dance shoes, leotards, new instruments, accessories, and we were probably also able to learn a few new tricks quickly and easily with little to no effort, right? Instant gratification is what we crave more than ever in today's culture! This is a high point in the curve.

Eventually as students progress in their studies, they will be challenged more and more so that they can meet the technical demands of the music they love and want to perform! To have fun doing this, though, they will have some practice to do outside of classes. While some students love practicing, many more love playing (I know I do)! When it comes time to practice, it's easy for students to practice what they already know and spend less time on the newer songs/parts/choreography that require some elbow grease. Parents - check MyMusicStaff and assignment books to ensure that students are spending enough time working on new material and not just things they already know. If you are only hearing or seeing highly polished performances all the time, chances are they need to spend a little more time focusing on new material. Otherwise, loss of interest will settle in since they (as well as everyone else in the house) will tire of only being able to perform the same songs.

The low and humbling points of the sine wave (i.e. our hard work and efforts) are those that produce the greatest rewards (such as being able to play, dance, or sing the music we love which may have been previously beyond our ability). It is through these efforts that we begin to zip back upwards in the sine wave which then leads to amazing recitals/performances and awards!

By the way, I mention all of this from my own personal experiences having taken lessons in piano, guitar, violin, saxophone, flute, trumpet, and bass. I enjoyed all of them and was equally frustrated with all of them at times too! Years later, I ended up with both a Bachelor of Music degree, and a Master of Music degree and guess what? I'm still overjoyed at times when I'm able to express my thoughts through the art of music, and I'm also equally frustrated at times with technical challenges that I need to spend time practicing to work out. You see, I too just want to be able to play whatever I want and RIGHT NOW! If only it worked that way, but you see, having FUN long-term with music and dance is definitely a commitment for everyone! So, practice to have the most fun in your journey!

Thanks so much for all that you bring to LAAPA, and don't hesitate to reach out if we can assist you in any way.

Ryan Cullen, Executive Director
Online Community Classes
In light of recent events and with everyone spending a bit more time at home, we feel that our mission to share the joy of music and dance is more important today than ever! We're proud to present a series of completely FREE Community music and dance classes open to our beloved greater New Orleans community. Our faculty members look forward to meeting you, answering questions, and allowing you to discover your talent for music and dance! As our physical campuses are currently closed (like everything else), we will be streaming these classes via Zoom.
Make 2020 Your Year for Music & Dance!
At LAAPA, we offer the most comprehensive Music & Dance Program in the Greater New Orleans area with three campuses located in Covington, Harahan, and Mandeville. For over 40 years, we've provided lessons to tens of thousands of students in Piano, Guitar, Voice, Violin, Drums, Ballet, Hip-Hop, Jazz, Tap, Brass, Woodwind, Bands, Preschool Music, and more!

Covington: 985-590-4545
Mandeville: 985-674-2992
River Ridge: 504-738-3050
Summer Camp Early Registration Has Begun!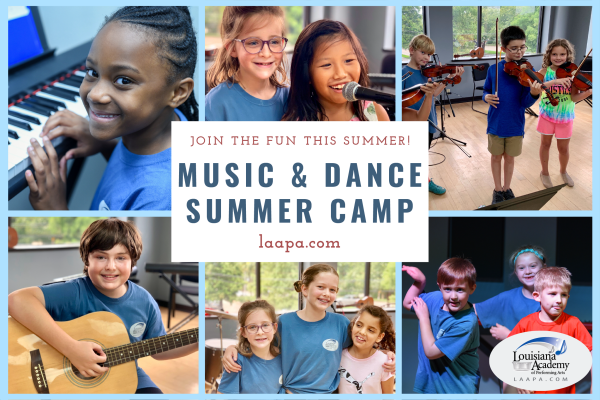 It's hard to believe, but Summer will be here before you know it! If you need something fun, new, and exciting to do this summer, then consider Summer Music & Dance Camps at LAAPA! We offer one of the most unique summer camp experiences in the area! Our summer camps provide campers ages 5-16 with a choice of over 40 instrumental, vocal, and dance programs to discover and explore. Beginners, intermediate, and advanced students will have a blast!

For more information or to reserve your spot, visit https://www.laapa.com/camp!
Student News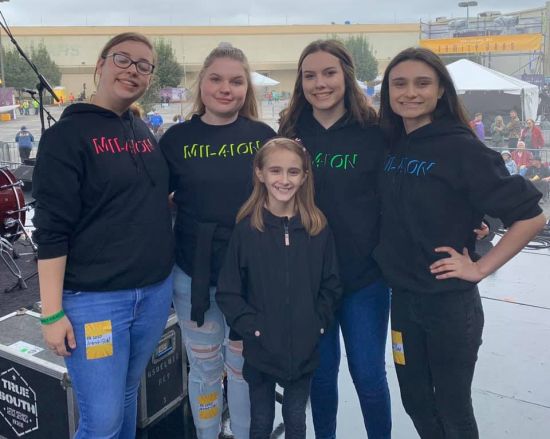 River Ridge School of Music & Dance Rock/Pop Ensemble (pictured above) performed on stage at Family Gras last month! The band (4 in a Million) consists of LAAPA students Kaitlyn Welk, Kimberly Adams, Claire Sheppard, and Carleigh Quinlan. They were accompanied by drum student Aly Vincent and instructor Bill Solomon. Way to go, ladies!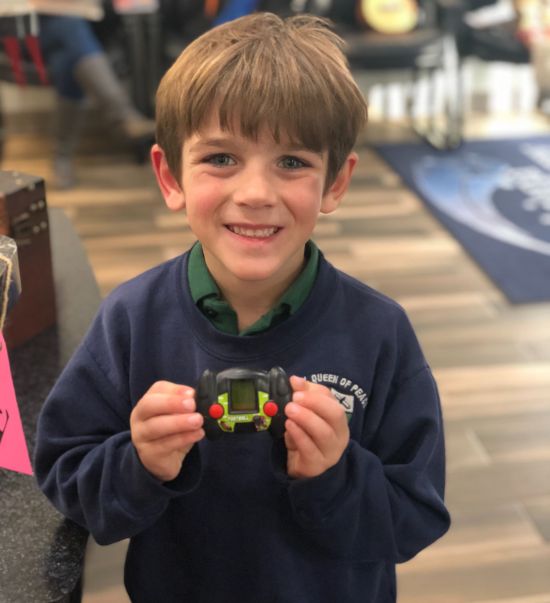 Mandeville School of Music & Dance student, William Phillpont (pictured above), saved up 10 tickets and claimed this awesome, handheld game as a prize. William is just 6 years old and has been taking drum lessons with Mr. Ryan T. for over a year! Keep up the great work, William!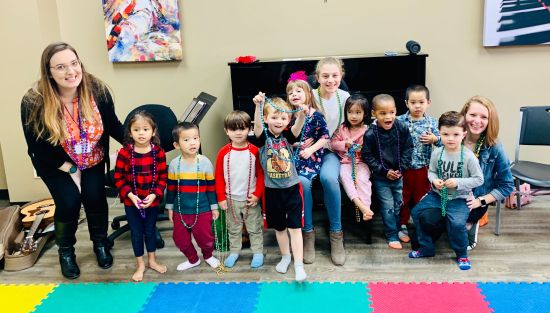 Our preschool music students had a blast these last few weeks learning about Mardi Gras! Pictured above is Mrs. Kadi's Preschool Music II Class getting ready to parade around the school to "Mardi Gras Mambo!"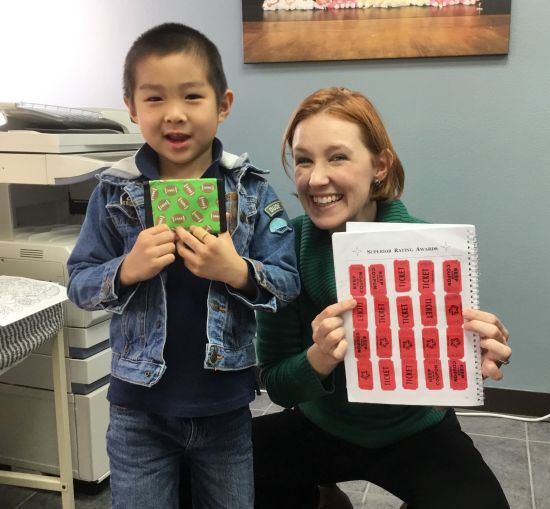 River Ridge School of Music & Dance student, Matthew Yi (pictured above), saved up 10 Superior Student tickets and traded them in for the fun football wallet! Way to go, Matthew!
Send Us Your News!
We love getting your news, success stories and comments. If you'd like to share your news with us, please e-mail at studentnews@laapa.com. Please note that we publish our newsletters monthly, and if you don't see your submission in this edition, it will be published as soon as space is available! Connect with us on Facebook at facebook.com/laapaface, youtube.com/laapatube, and now on Twitter at @laapatweets.
Recording Studio
Our recording studio is located at the Mandeville campus and features a 32 track ProTools system, 4k video cameras, premium mics and equipment. Click the button below to learn more, schedule a studio tour or Book Your Session today!
Happy April Birthdays!
We'd like to wish the following Students, Faculty, and Staff a very Happy Birthday this Month!


Students: Adele M. (10), Aidan S. (6), Alejandro V. (9), Alexa M. (6), Alexander S. (6), Alexis E. (19), Alice Catherine D. (5), Amelie B. (10), Ananya R. (8), Anderson B. (7), Anderson L. (8), Andres G. (12), Anson P. (13), Anthony N. (5), Arinna L. (6), Ashley C. (6), Ashlyn T. (9), Asia B. (14), Aubrey W. (12), Ava H. (6), Benjamin C. (12), Brendan M. (8), Brianna D. (13), Brooke F. (12), Brooklyn V. (7), Caelyn V. (5), Caleesi Y. (7), Calister S. (16), Camryn P. (13), Carlos A. (18), Carolina R. (11), Caroline S. (9), Cecilia C. (5), Christopher Z. (42), Daian T. (16), Diego C. (8), Elise M. (6), Elizabeth T. (9), Emily N. (8), Emily R. (17), Emma M. (17), Emmalia P. (12), Erica P. (20), Faith G. (8), Frank S. (5), Gabriele M. (11), Gianna M. (6), Gianna P. (4), Gideon S. (8), Gracynn Y. (6), Havana B. (6), Jacob W. (9), Jaiden G. (13), James W. (9), Jayla F. (16), John G. (11), Journee J. (10), Kacey C. (13), Karsyn M. (8), Kennedy M. (14), Kiley M. (10), Kingsly W. (7), Kinsley G. (3), Klaire E. (14), Kristen L. (11), Leilany M. (5), Lexsia H. (11), Lila C. (5), Linda B. (3), Linda R. (54), Luke K. (10), Lyla S. (9), Maci C. (8), Madelyn H. (8), Madison D. (15), Madison R. (12), Maisy M. (11), Marissa D. (13), Mason J. (8), Max V. (9), Mickey W. (7), Molly B. (40), Nary M. (46), Natalie M. (11), Oliver O. (7), Olivia Y. (2), Pablo W. (7), Paisley K. (4), Paloma-Maria A. (4), Payton C. (10), Piper M. (4), Quincy S. (10), Rakshitha R. (16), Ryleigh B. (12), Samuel H. (15), Sanvi P. (6), Sarah S. (13), Sawyer L. (6), Sloane P. (12), Sophia M. (10), Stephanie L. (3), Svaraathmika B. (6), Todd W. (43), Tristan M. (48), Vera M. (5), Vincent C. (13), Vivian A. (8), Will R. (9)

Faculty & Staff:

Video of the Month - Pentatonic Blues Improvisation for Guitarists with LAAPA Instructor Ryan Tingle
Mr. Ryan, Instructor of Guitar and General Music at LAAPA will walk you through how to get started with improvising over the 12 bar blues on the guitar. By the end of the video you'll have learned what a pentatonic scale is, the blues scale in E as well as many of his tricks including "hammer-ons", "pull-offs", "vibrato", "slides" and special patterns he likes to use in his own improv.

*Please note in the video he is tuned down 1/2 step to Eb, so if you want to play along, you'd need to do the same.*

Learn more about getting started in guitar lessons locally or online at LAAPA by visiting https://www.laapa.com/guitar-lessons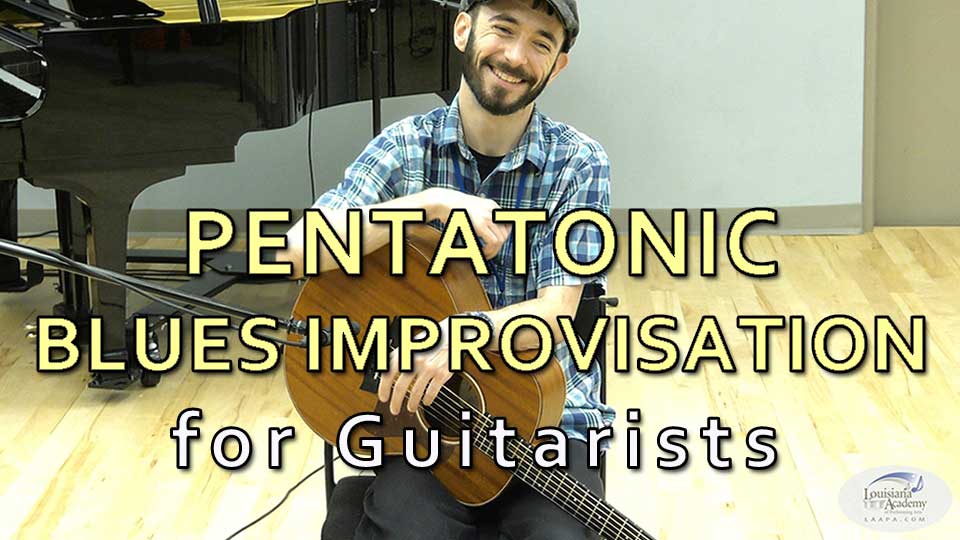 Important Dates
Take a moment to review the following upcoming dates:

March 14:
LAAPAFEST Covington Campus
March 21:
LAAPAFEST Mandeville Campus
March March 28:
LAAPAFEST River Ridge Campus
New Artwork by Michaela Howell
We are very fortunate to work with local artist Michaela Howell. Many of her paintings and art are on display at all three of our school campuses!

Michaela recently brought in new artwork that can be viewed at both of our Northshore campuses. The beautiful piece above is available for purchase at our Covington location for $425

Interested in purchasing art from Michaela? Inquire at the front desk!

With down home country humble beginnings Michaela has always been very resourceful. She cuts, sands, primes, paints, and in some cases stains her abstract versions of the wooden instruments, creating very hands-on works of art. This resourcefulness has "Played" out very nicely in her most current work. Though the recycling of varying musical instrument components including guitar strings, violin knobs, music sheets featuring the instrument showcased, Michaela portrays a 'current' sense of style combined with a very vivid color pallet, creating a symphony for the senses!
Students Spotlight - Lolo Loris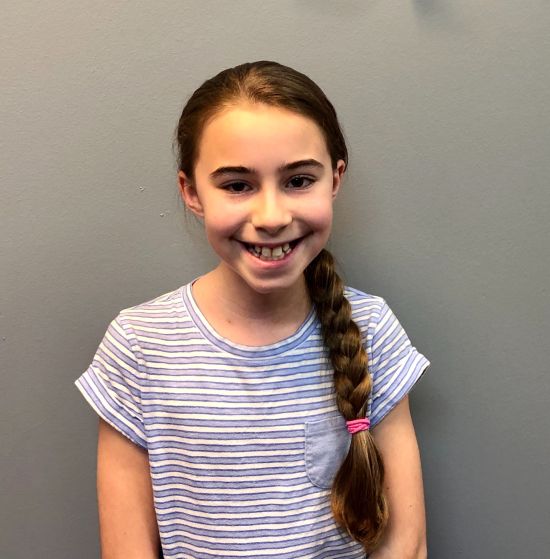 This month we are spotlighting Covington School of Music student Lolo Loris.

Lolo has been a student at LAAPA since 2016. She currently takes voice lessons with Mrs. Carolyn and is in the Rock/Pop Ensemble with Mr. Ryan T.

Her favorite type of music to listen to is Pop and Christian. When asked what her favorite part about taking lessons was, Lolo responded, "I like learning new things each week!"

Outside of music, Lolo enjoys dancing, acting, volleyball, swimming, and reading!

I signed her up for LAAPA's summer camp a few years back and she loved all of the teachers and programs offered. That camp sparked her love for music and performing! Everyone was so friendly and welcoming, so I decided to enroll her in private lessons. It has been a great experience! The teachers are excellent and the staff is always very helpful," said Lolo's mom when asked why she chose LAAPA.
A HUGE welcome to our newest students who began lessons or added programs in February!
We are so happy that you've chosen to study at LAAPA. We know you will do great things this year!
Abigail B.
Adelyn M.
(Thanks Samantha R.)
Aftrip P.
Alexa M.
(Thanks Samantha R.)
Amelie B.
Anh H.
Aniston M.
(Thanks Samantha R.)
Ann K.
(Thanks Chris T.)
Annie P.
Ava S.
(Thanks Elaine F.)
Benjamin S.
Caelyn V.
Camryn M.
Cara K.
Carol L.
Caroline M.
Cecilia C.
Claire N.
Cullen M.
Dominic G.
Dylan S.
Eduardo C.
Elizabeth D.
Ella C.
(Thanks Brady R.)
Elsie D.
Elysa W.
Erica P.
Ethan H.
Jelan M.
JER'nya D.
Jerry P.
(Thanks Cole S.)
Jordyn D.
Jurnee G.
Justin M.
Kavya P.
Keya P.
Laurie T.
Layla P.
(Thanks Lora P.)
Leigha S.
Leticia T.
Lucien F.
Mia D.
Michael B.
(Thanks Mary D.)
Miles B.
Nary M.
Nidia A.
(Thanks Maria G.)
Olivia C.
Olivia C.
(Thanks Wanda C.)
Paisley K.
Pepperjean H.
Perri C.
Peyton C.
Rahaff M.
Reese B.
Rooia M.
Sabrina S.
Sarah M.
Shawn M.
Sofia G.
Sophia F.
Summer M.
Tripp C.
(Thanks Brady R.)
Tristan L.
Vivian D.
Student "Shout Outs!"
"We love piano lessons with Mrs. Rebecca! It's been a very good experience so far, and Calvin is enjoying it! He's starting to learn to read music which is really important to us!"
~ Schneider Family
"Woody is a sensei! Maggie is having so much fun in guitar lessons, she loves it and is practicing and he's such a great help! She also really enjoys her Theory teacher, Ben!"
~ Thomas Family
"We LOVE Mr. Bill! His approach is awesome, and he does so well with Jack! He's a very patient teacher, which is important when working with a special needs child. Everything is great"
~ Tay Family