Piano Instruction in New Orleans (ages 5- adult)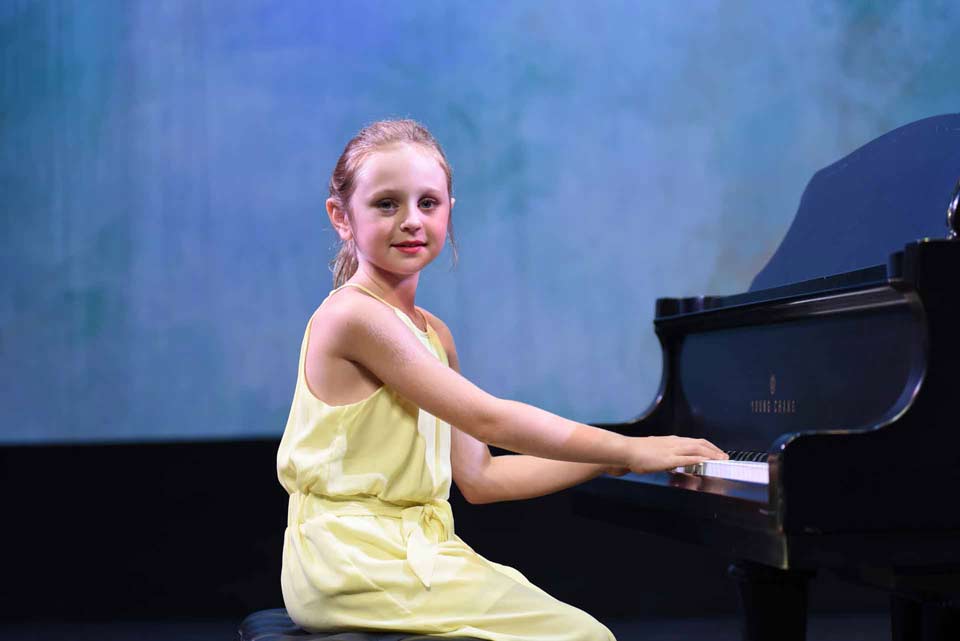 Learning to Play the Piano
Learning to play the piano is one of the true joys life has to offer, and here at the Louisiana Academy of Performing Arts (LAAPA), our piano instructors have helped thousands of students in New Orleans play their first notes on the keyboard for the past 40+ years!
Getting started in piano lessons doesn't have to be a chore, and an effective teacher is able to make each lesson fun and engaging so that you'll enjoy working towards short term and long term goals.
Private piano lessons are offered in 30, 45, and 60 minute weekly sessions here at LAAPA. We teach kids, teens, as well as adults and enjoy working with students of all levels. So, whether you have been playing for years and are seeking new direction and guidance or you've never even opened the lid of a piano, our intructors can't wait to get you started.
Our faculty realize that students want to learn the piano for a variety of different reasons and are also interested in learning a wide range of playing styles. Perhaps you're interested in traditional or classical piano and the works of Frederic Chopin, J.S. Bach, Claude Debussy (etc); or maybe you're more a fan of New Orleans piano like Professor Longhair, Dr. John, or Jelly Roll Morton? Whatever your stylistic preferences and goals are (Rock, Pop, Jazz, Classical, Christian, Blues, Funk, Country, or Honky-Tonk, and more) our University Trained piano teachers are ready to help you play the songs you love in a professional and (most importantly) FUN environment.
Beginning Piano Lessons for Kids
Some of the questions that we frequently receive are "My toddler is showing an interest in piano. Do you offer lessons before age 5?" "What age is best for young children to begin learning the piano?"
Honestly, the answers are unique to each child as every child learns differently. We love helping beginning piano students get started because we are then assured that they are receiving a solid foundation and receiving the correct training from the start! While our suggested age is typically 5 years for private piano instruction, students enrolled in our toddler and preschool music program sometimes graduate early per the recommendation of his/her preschool music teacher. These students are then invited into private weekly lessons (15/minutes each week).
Students who are ready for private lessons are able to focus for at least 15 minutes each week, retain information and able to do some practicing during the week. Parental support and guidance with early beginners is paramount to their success at this age!
Watch some of our Beginning Pianists Perform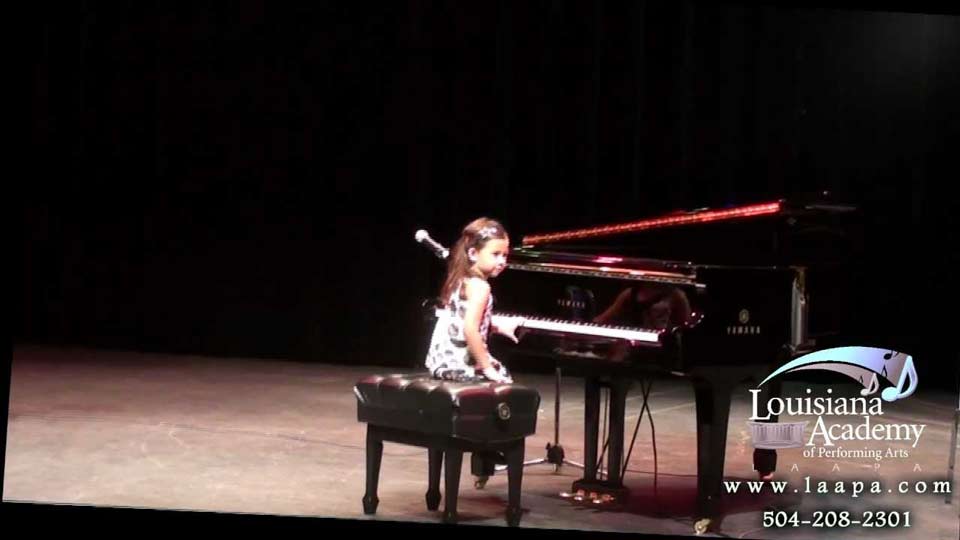 Piano Lessons for Teens & Adults
Teens and Adults are able to get started in lessons at any time. There really isn't a cut off point for learning to play, and older beginning pianists are usually able to excel quickly through introductory material ( depending on how eager they are to learn)! Students with specific musical interests are encouraged to bring in songs that they would ultimately like to play so that your lesson goals can be set accordingly.
About our Piano Teachers
Many of our piano teachers are what we call "home grown" in that sense that they earned their professional music degrees and experience right here in the Crescent City. Our faculty have attended Loyola University New Orleans, University of Miami, Tulane University, as well as UNO, Xavier University, and the New Orleans Baptist Theological Seminary just to name a few. In addition to their teaching credentials, many of our piano teachers are professional musicians whom you can catch performing all over the city and in some cases even nationally and internationally! Check out a video of Mr. Ryan below giving an intermediate lesson on 7th chords.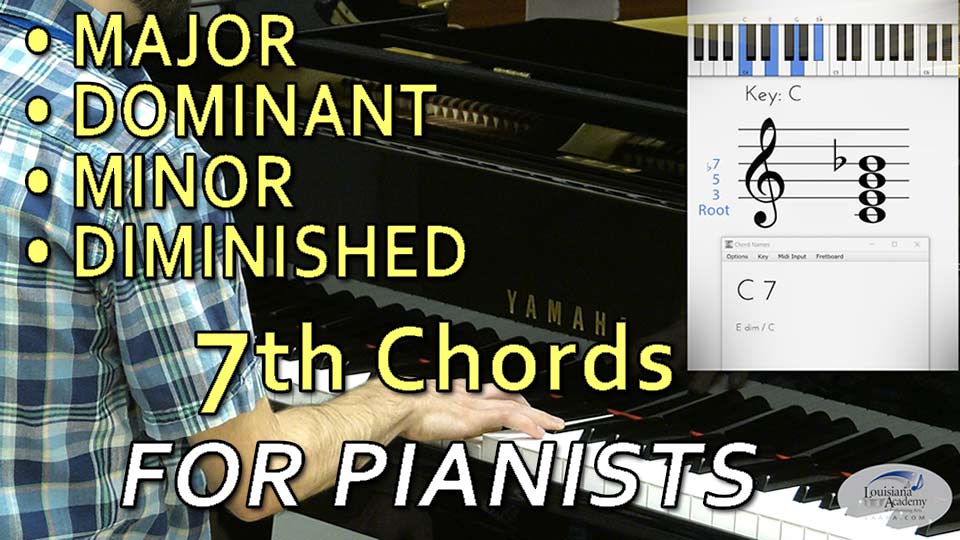 What are your Recommended Piano Methods?
We believe in allowing our faculty to use the teaching methods they feel most comfortable with, and there are obviously various methods for ages as well as styles of playing. With so many resources available today (both online and hard copy), your weekly lessons are guaranteed to have significant depth beyond the confines of any one piano book.
A few of the traditional methods our teachers often use are the Faber and Faber Piano Adventures series, the Alfred Basic Piano Library Series as well as the Alfred's Basic Adult All-in-One series. For the young beginners, we have published our own method entitled, Piano Prodigy Primer 1A which features an exciting and game filled introduction to the piano. Many of our faculty also enjoy using the Music for Little Mozarts piano series as children love getting to play with "Mozart Mouse" and "Beethover Bear"!
What Makes a Good Piano Instructor?
While there are so many phenomenal musicians and pianists in New Orleans, they are not all equally talented at teaching. Some musicians prefer to perform and teach on the side because they need additional income to support themselves. Other musicians teach piano classes because it's their primary focus and passion. Still other pianists enjoy both professions equally and place a great amount of dedication and energy into both areas. When interviewing prospective instructors, we recommend asking how long they have been teaching in the area and whether or not they are able to share recommendations from former or current students/parents.
Parents of young students should also not hesitate to ask independent piano teachers to provide a copy of a recent background check. Family safety is extremely important! At LAAPA, we only hire the most talented and engaging educators for our students. All of our prospective piano instructors undergo a rigourous 6 point hiring process including initial resume review, phone interview, personal interview, multiple background checks, reference checks, instruction and performance tests.
Yes absolutely! Our faculty enjoy working with students both in-person and online and are equally experienced with both. One of the advantages to attending LAAPA vs other online music schools or programs is that you can also opt to take your lesson in person whenever you're in New Orleans or feel like coming down to the studio, so you'll always have the best of both worlds!
Our online students need to have a solid internet connection, a recent (3-4 yr old computer/tablet/smart phone) as well as a piano or keyboard at home. Our faculty have had the most success using the Zoom application (a free download for all devices). Click here, for more information on our online program. Watch Ben below as he works though the chords to "Believer" at the piano with his teacher, Dr. Vera!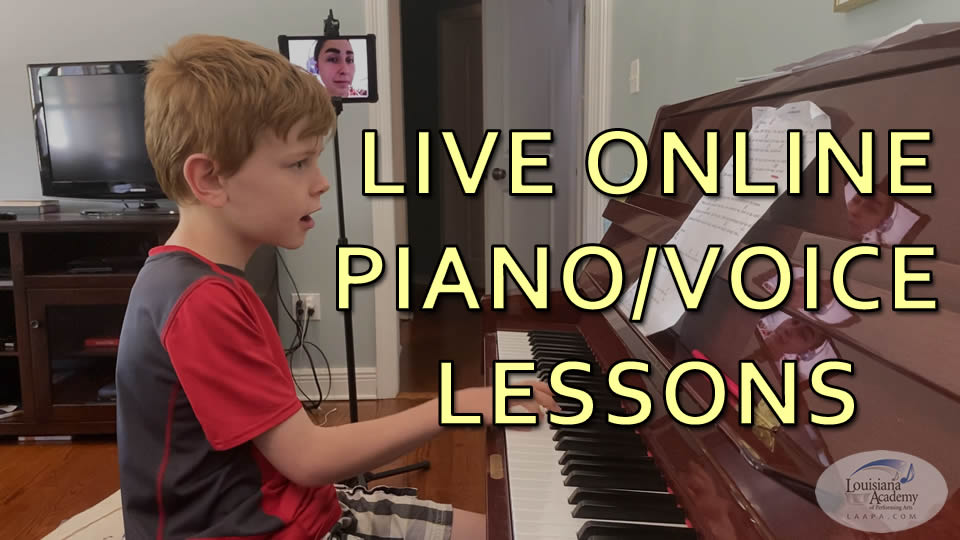 Do We Offer In-Home Piano Lessons? Where are Your Piano Lessons held?
All of our piano lessons are taught at our professional school of music studios at 2020 Dickory Ave in the Highlands I building. Our New Orleans piano studios feature Yamaha, Kawai, and Young Chang instruments. We don't offer in home lessons due to the many distractions in the typical home. We feel our students are able to make the most amount of progress by focusing 100% of their energies and concentration on their music instruction each week. The safety of our students, faculty, and parents is also of the utmost importance to us which is why all of our studios feature security cameras and viewing windows. Our students are also able to make new friends studying other instruments and experience the full community of musicians in our school. Free workshops are also held on a regular basis allowing students to learn from many of our talented piano faculty.
Should I purchase a digital or acoustic piano?
This generally depends on the type of music you are interested in learning as well as your budget. For most students interested in beginner piano lessons, it's perfectly fine to start with a basic 61 note keyboard that has full sized keys and is touch sensitive. Currently Yamaha and Casio make some excellent introductory models in the $100-300 range. At the academy, we have the Yamaha Np-11 series for our beginning piano classes. Students who become more interested in the sound and feel of the acoustic piano will eventually gravitate toward either an 88 note fully weighted digital piano or a traditional acoustic piano.
Budget comes into play in the sense that you can purchase a very nice digital piano and a bottom end upright acoustic piano for roughly the same price (circa $1500). At that point, it really comes down to personal preference, how the instrument will be used, and whether or not the student is interested in being able to move it or utilize different sounds, etc. Today, many piano companies and manufacturers are producing what's known as "hybrid" pianos whose exterior simulates the feel and traditional cabinetry of acoustic pianos, but whose interior is all electronically composed. The built in speakers are designed to resonate with the wood in the cabinet producing a digital simulation of what usually happens in a traditional piano. Probably the most well known hybrid is the Yamaha Avantgrand series.
Another advantage of digital pianos is that all but the very basic models have built in MIDI (Musical Instrument Digital Interface) compatibility. This allows you to connect your keyboard or digital piano to a variety of other professional music equipement, computers, ipads, iphone, android device, etc generally via USB or traditional MIDI cables. The possibilities with MIDI are endless. You're able to use MIDI to record, playback files of other artists, play virtual pianos and other instruments from apps on your phone, tablet, or computer etc. Some great apps to check out with fantastic pianos in them are the Korg Module as well as Ravenscroft Piano.
Just remember that a digital piano or keyboard is perfectly fine for getting started in lessons. Watch the presentation from Academy Director Ryan Cullen below as he discusses a variety of inexpensive digital pianos and exactly what is recommended for student beginners to get started in piano lessons!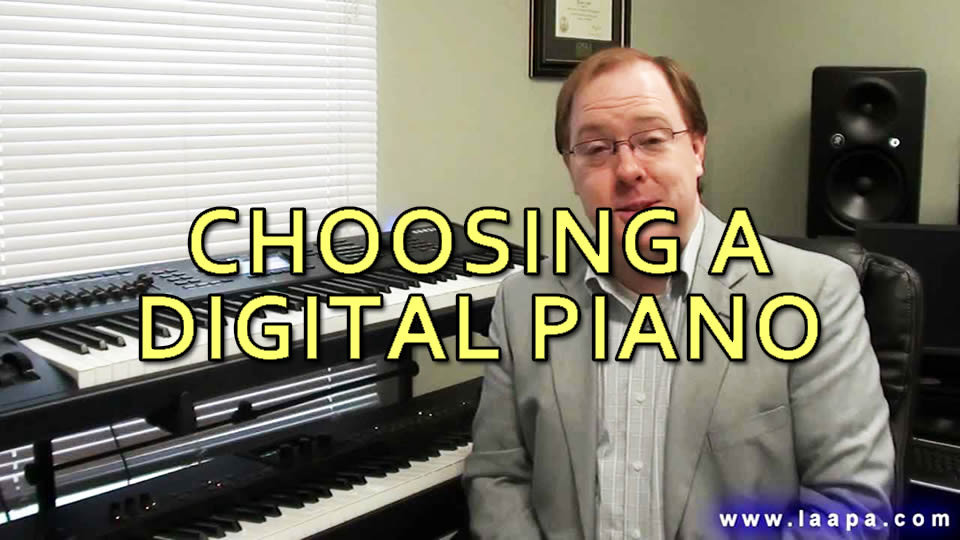 What is the best acoustic piano model to get for lessons?
If you've definitely decided that an acoustic instrument is best for you, then you'll want to understand what your getting for your money. There are two main categories: Upright piano and Grand piano. Grand pianos are not necessarily better than all upright pianos. Some upright pianos outperform small grand pianos or are simply better built. As with many things, you get what you pay for! The smallest upright piano is known as a spinet and sits at about 36-40 inches high. A console piano is traditionally 40-44 inches tall. Studio uprights are usually 44-48 inches tall, and professional uprights are 48 inches and above.
Height is important because of the size of the soundboard. More height = a larger soundboard with a fuller sound. Spinets are the cheapest option, however a midrange digital piano is usually a better option for the same money. At LAAPA, we generally recommend looking into factory refurbished pianos from Kawai and Yamaha which (when properly cared for) will last a lifetime. A factory refurbished piano will most times look brand new and will be available for half the cost. We do recommend having a registered piano technician inspect any used piano you're considering especially if there is no warranty. Most factory refurbished pianos sold from companies will come with a 3-5 year warranty on parts and labor.
Grand pianos come in a variety of sizes as well. Baby grands are the smallest ast 5'1". There are even smaller baby grands, but at that point, the sound board in a 48 inch upright will be the same. Quality or parts and build will most likely be better in a higher end upright than a very small entry level baby grand. A full size grand is traditionally 6'1". Semi-concert grands are typically 7' -8.5'. Full concert grands are 9' and above. As with upright pianos, the bigger they are, the more full the sound since the sound board is larger and the strings can be longer. Longer strings are particularly important for the bass notes on the piano. The longer the string, the more it is physically able to produce a dark and resonating tone. In general, if you're considering a grand piano, be sure the stick with a size between 5' and above. If budget and space permit, 6' is preferred.
Want to learn more about Piano Lessons in New Orleans? Check out the link to our main Piano Program's homepage below!
More About Piano Lessons
Check out some of our music blog posts:
VIRTUAL CAMPUS TOUR