Update from the Director - Summer Camp, Recitals, In-Studio Lessons
Dear Students, Parents, Faculty, and Staff:
I hope everyone is doing well this month and using this self-quarantined time to get outside a little more often with the impressive weather we've been experiencing most of April.
I wanted to thank you all once again on behalf of your teachers and all of us here at LAAPA for your patience and commitment as we continue online lessons at this time.
This month I wanted to take the time to answer a few questions regarding plans for reopening as well as recitals.
While there are currently no firm dates for reopening to report, we are very encouraged this past week to see restaurants allowing customers to be seated outside and people being able to get out of the house a bit more while still maintaining social distancing!
Our plans to reopen include a four part plan. The first phase has already begun as we have been acquiring additional sanitation products for each studio to ensure pianos and equipment are cleaned after each student, masks are available for our faculty, and of course regular cleaning has continued even though our campuses have been closed to the public.
Phase II will commence once the stay at home order is lifted and we will invite all of our faculty and staff back to campus. They will continue to teach you online from their regular studio for an additional week or two (at most) and additionally be trained on maintaining sanitation and social distancing within their studios.
Phase III will welcome back our young, beginning private music students ages 7-under, all special needs students, ensembles, preschool, parent and tot, pre-ballet, ballet I, hip hop I students, as well as any students experiencing difficulty with Zoom lessons from home.
Finally, phase IV will welcome back the remainder of our private music students.
Please note that how quickly we are able to transition into each phase is dependent upon where the occupational capacity requirements stand for schools and/or business entity equivalents to ourselves. Many are only being allowed to welcome back 50% of their normal capacities at first, hence our various phases of return.
At this time, we are sincerely hoping to be able to welcome everyone back within the month of June.
Please note that the waiting room and lobbies will remain closed during Phase III-IV, however all dance classes will continue to be broadcast via Zoom and any parents of private students are welcome to join the class via Zoom as well, from the comfort of their homes or vehicles.
Additionally, we recognize that many students may really be loving the convenience and comfort of Zoom. We will of course continue to offer this option to all of our music and dance students throughout the year and in the foreseeable future. As we've been offering this option since 2012, we feel it will only continue to grow in popularity!
Regarding our recitals, please note that dates and locations have been updated as follows:
Our Northshore dance rehearsal and recital dates have been changed to Friday, August 7 (rehearsal) and Sunday, August 9 (recital). The location will still be Fuhrmann Auditorium in Covington. Our Northshore music recitals will be held Saturday, August 8. You can sign up starting now for our "Music Recital" at https://www.laapa.com/current-students/recital-sign-up.
Our River Ridge dance rehearsal has been moved to Friday, August 14 and the recital will be held Sunday August 16. Our contract with St. Martin's was unfortunately cancelled due to their recent closure. Loyola, whom we have also worked with in the past, has been unresponsive as to their availability as have many other local theatres large enough to host our show.
Due to the general uncertainty in the New Orleans area in terms of theaters/staffing availability for our dance program, we have made the decision to also host our River Ridge dance recital at the Fuhrmann Auditorium in Covington for this year only. It's a wonderful facility and will be worth the drive to see your children shine on stage.
Our music recital for River Ridge will be held Saturday, August 29 at Victory Fellowship in Metairie.
We know that our students LOVE their trophy awards that are given following each recital. This year will be no different, and we look forward to recognizing all of your hard work later this summer on stage!
All rehearsal and recital assignment times will be issued in July.
We understand and anticipate that even in August, not everyone will be able to attend our productions in person for health concerns. We will be encouraging families to spread out in the theatres as much as possible, and of course we will be LIVE STREAMING all concerts as we always do free of charge. So, no one in your family will be left out from seeing the fun on stage!
We look forward to seeing the light at the end of the tunnel in terms of the many months of preparation being put into everyone's performances!
While we love seeing you all online, we cannot wait for the day when we can see you all in person once more!
Ryan Cullen, Executive Director
Online Community Classes
In light of recent events and with everyone spending a bit more time at home, we feel that our mission to share the joy of music and dance is more important today than ever! We're proud to present a series of completely FREE Community music and dance classes open to our beloved greater New Orleans community. Our faculty members look forward to meeting you, answering questions, and allowing you to discover your talent for music and dance! As our physical campuses are currently closed (like everything else), we will be streaming these classes via Zoom.
Enroll Now in Virtual Music & Dance Classes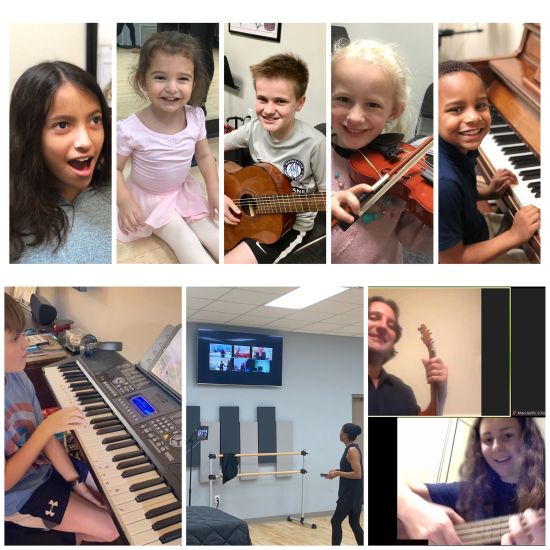 Looking for something FUN and educational to do while stuck at home? Join us for virtual music lessons and dance classes! At LAAPA, we offer the most comprehensive Music & Dance Program in the Greater New Orleans area with three campuses located in Covington, Harahan, and Mandeville. For over 40 years, we've provided lessons to tens of thousands of students in Piano, Guitar, Voice, Violin, Drums, Ballet, Hip-Hop, Jazz, Tap, Brass, Woodwind, Bands, Preschool Music, and more!

Covington: 985-590-4545
Mandeville: 985-674-2992
River Ridge: 504-738-3050
Summer Camp Early Registration Has Begun!
If you're looking for something fun, new, and exciting to do this summer, then consider Summer Music & Dance Camps at LAAPA! We offer one of the most unique summer camp experiences in the area! Our summer camps provide campers ages 5-16 with a choice of over 40 instrumental, vocal, and dance programs to discover and explore. Beginners, intermediate, and advanced students will have a blast!

For more information or to reserve your spot, visit https://www.laapa.com/camp!
Student News
Mandeville School of Music & Dance student Reese B. has been using her time at home to create short videos of her singing Disney songs that she sings during her lessons with her instructor, Mrs. Rebecca. You can check out the compilation video here: https://youtu.be/6zfLSk82Z2k
We all know Mandeville School of Music & Dance faculty member, Mrs. Rebecca P. is an exceptional vocalist and pianist, but did you know she's also an extremely talented seamstress? Recently Mrs. Rebecca started a YouTube Channel where she shares techniques, tips, and her finished pieces. Check it out here: https://www.youtube.com/channel/UCq3pjjmtZJjePz2-Wc9AwPw
Send Us Your News!
We love getting your news, success stories and comments. If you'd like to share your news with us, please e-mail at studentnews@laapa.com. Please note that we publish our newsletters monthly, and if you don't see your submission in this edition, it will be published as soon as space is available! Connect with us on Facebook at facebook.com/laapaface, youtube.com/laapatube, and now on Twitter at @laapatweets.
Recording Studio
Our recording studio is located at the Mandeville campus and features a 32 track ProTools system, 4k video cameras, premium mics and equipment. Click the button below to learn more, schedule a studio tour or Book Your Session today!
Happy May Birthdays!
We'd like to wish the following Students, Faculty, and Staff a very Happy Birthday this Month!
Students: Aaliyah R. (18), Abigail N. (12), Adam S. (10), Addie S. (8), Alice C. (6), Alice L. (8), Anabel P. (8), Ariana A. (17), Aubrey R. (27), Audrey C. (6), Aurelia R. (9), Avery B. (7), Avery P. (5), Ayesha S. (13), Benjamin B. (11), Brady D. (12), Camille O. (9), Camille R. (6), Charlie M. (10), Evan V. (22), Gabriel N. (6), Gabriella C. (6), Greyson P. (8), Gwendolyn R. (6), Hannah S. (17), Harmony S. (7), Hayden D. (10), Hazel H. (10), Iris B. (8), Isabella M. (13), Jaelyn J. (13), Jake F. (13), Jake T. (14), Jordyn D. (4), Joseph S. (9), Jude F. (7), Julia D. (16), Kate D. (11), Lainey L. (13), Landry T. (6), Larson G. (11), Laurie T. (53), Layla H. (12), Leana K. (9), Lena Z. (10), Lola P. (6), Mary S. (61), Matthew G. (14), Max A. (17), Michael L. (49), Myles B. (12), Nassrin M. (61), Norah T. (6), Oakleigh F. (7), Oliver W. (4), Opal D. (12), Paloma P. (14), Peyton C. (13), Rainah C. (6), Rowan V. (8), Saja Q. (9), Sameen H. (15), Samuel S. (14), Samuel W. (6), Sebastian P. (12), Seth F. (13), Shagun A. (11), Sheldon B. (10), Sophia P. (5), Stevey W. (7), Sydni G. (11), Tatumn P. (14), Vaishant K. (9), Vincent G. (4), Vivian M. (11), Xianglong W. (28), Zachary S. (11)
Faculty & Staff:
Bradley B., Rachel T., Savannah P.
Video of the Month - Piano Recital Tips & Best Practices
Dr. Vera and Ryan discuss everything beginning pianists need to know when preparing for the big stage! While this video is specifically geared for beginning pianists, many of the topics discussed translate well to other instruments and programs as well.


Important Dates
Take a moment to review the following upcoming dates:
May 25:
Memorial Day - No Lessons or Classes
June 29 - July 4:
Summer Break - No Lessons or Classes
New Artwork by Michaela Howell
We are very fortunate to work with local artist Michaela Howell. Many of her paintings and art are on display at all three of our school campuses!
Michaela recently brought in new artwork that can be viewed at both of our Northshore campuses. The beautiful piece above is available for purchase at our Covington location for $425
Interested in purchasing art from Michaela? Inquire at the front desk!
With down home country humble beginnings Michaela has always been very resourceful. She cuts, sands, primes, paints, and in some cases stains her abstract versions of the wooden instruments, creating very hands-on works of art. This resourcefulness has "Played" out very nicely in her most current work. Though the recycling of varying musical instrument components including guitar strings, violin knobs, music sheets featuring the instrument showcased, Michaela portrays a 'current' sense of style combined with a very vivid color pallet, creating a symphony for the senses!
A HUGE welcome to our newest students who began lessons or added programs in April!
We are so happy that you've chosen to study at LAAPA. We know you will do great things this year!
Alexavier M.
Bella Rose C.
Cristian C.
Finley P.
Katherine S.
(Thanks Wanda C.)
Landry O.
Lily J.
Madeleine P.
Mani V.
Marlowe C.
Mia P.
Robert L.
Roni S.
Samantha M.
Tatumn P.
Student "Shout Outs!"
"Ashlynn is loves lessons with Mr. Christian! I'd say her favorite part is his versatility. He switches up content so she always has new things to work on and is never bored!"
~ Elwood Family
"Emerson is always so excited to practice at home and is lights up when I mention piano! Mrs. Angie is great!"
~ Chetta Family
"We love dance class! I like seeing the group of girls bond, and Ms. Desiree provides enough structure yet also allows time to be silly and for them to be toddlers."
~ Oviedo Family
"Casey is LOVING his lessons! He has so much fun in class! He's working hard and enjoying himself! His instructor is great!"
~ Anderson Family